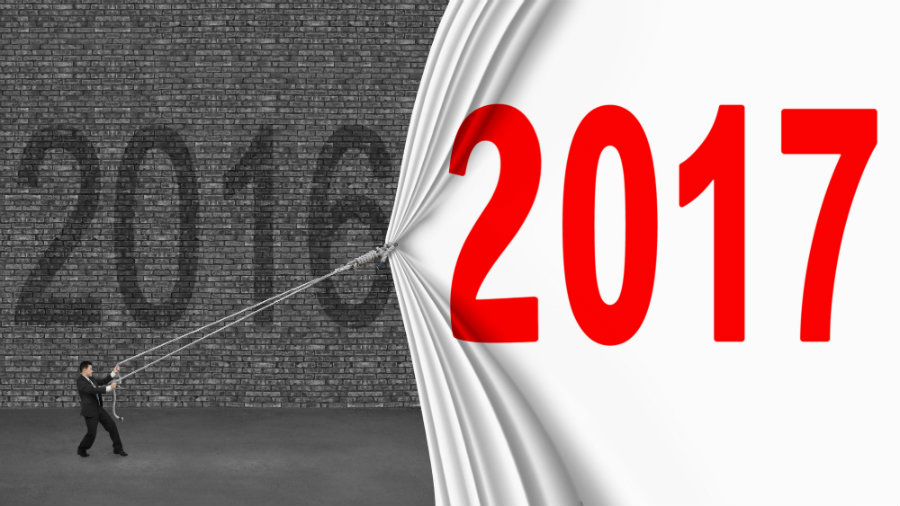 This will not be a doom and gloom post, but I did want to start out as a reminder that none of us are promised tomorrow. I am reminded of that with my wife's cousin who is several years younger than I am who is not expected to make it through 2017 due to a battle with cancer and nothing short of a miracle from God. However, we all still have to plan as if we are fortunate enough to go on living our lives and running our businesses.
As 2016 winds down, it's that time of year when we all typically make resolutions which can be made at anytime throughout the year. However, I think with a new year on the horizon that it's easier to ask ourselves what we can learn from the passing year and what will be different in the coming year?
I decided near the end of 2015 to write a blog post per day in 2016 which I did for about 6 months. But I began to realize that it was more of doing than being strategic. In other words, being able to say that I wrote a blog post everyday for a year vs. being strategic about the why and realizing the recommended length of a blog posts has changed over time. It is now recommended that posts be 2,000+ words. Although I can go on and on pretty well (just ask anyone who knows me), this blog post will likely break just over 1,000 words not 2,000+ words. I'm currently about 250 words into the post now to give you a feel of that. So should I not even bother to write a post unless it's 2,000+ words?
Blogging is something that I plan to continue doing in 2017. It's a critical part of our website, our business strategy and blogging also provides a nice outlet for me in the written word. I actually really enjoy writing especially when it's on a topic that I'm passionate about like photography and video.
What will I do different in 2017?
I've learned from both mistakes and successes in 2016 that I plan to use both to my advantage in 2017.
For example, I ran Yelp ads for the first 6 months of 2016. I primarily did it because of two key reasons: 1) A key competitor was and still is running Yelp ads. However, although we cross over in some areas, this competitor targets a key consumer market that I do not. Maybe the ads are paying off in that area. 2) To shut Yelp reps up. Yes, I spent money to prove whether I felt Yelp ads worked or not to be able to tell any future irritating Yelp reps, "I paid for ads for 6 months. I was not happy. Have a nice day." or something along those lines. Unless there is some very compelling reason, I have ZERO intentions of running Yelp ads in 2017 or for that matter, the next several years.
One of the key ah-ha moments that resonated throughout 2016 is all the potential business in under a 5 mile radius of our business location. It's easy to get caught up in targeting the whole Triangle area when there is a lot of business in less than 10 minutes of our physical location off of Six Forks Road.
Another key take away from 2016 is doing more of the projects that I truly love in 2017. I've discovered the type of work that I truly love doing and want to do more of that in 2017.
One final mistake is camera mishaps. In both 2015 and 2016, I've had too many drops to the ground with cameras. It always has to do with something not being secure enough like the camera not locked into the tripod as good as it should be which recently caused $600 worth of damage which was discounted from $900 thanks to my Platinum membership with Canon Professional Services. I definitely need fewer mishaps like that in 2017.
A core goal for 2017 is...
Yes, I'll admit it. I'm way behind on having an active YouTube Channel. Since we have all the elements built into our business like videography and video editing, it's all a matter of setting priorities in 2017 and making it happen. Although I could write all the reasons (excuses) here, it would be a waste of my time and yours. Getting tutorial type videos and helpful client videos done within our company is a core goal for 2017 and it will happen barring anything unforeseen.
Here's some advice to anyone who didn't have the kind of year he or she wanted in 2016...
1) Prioritize - If it's important, you'll make it happen in 2017.
2) Find your why! Why do you really want to do what you think you want to do? Is it passion? Is it money? Why?
3) Stop letting gear stop you. If you cannot afford that lens you want, you'll have to rent it and either take the hit on the project or pad the rental into your fee. Do the best you can with the gear you have. I have a friend in another market that has generated thousands of dollars off of headshots with cheap strobes that have more than paid for themselves. He also doesn't edit to my wife's level for headshots, but uses Portrait Pro to bang out a quick edit and keep his clients happy.
4) Stop whining and start marketing: Marketing is not easy and it's not always free. You'll have to figure out whether you want to beat the pavement and market your business or try to spend money to get the phone to ring. Marketing will cost you time at minimum and very likely money. The problem is that there is no magic bullet. So you may want to start with resources online about marketing like marketing blogs and free tips. Then, go out and do the low cost things.
5) Invest when you can. I'm not encouraging anyone reading this to go into debt and max out their credit cards. But I am encouraging anyone reading this to invest in training, gear, marketing and more as best possible when possible because without some kind of financial investment, it is very hard to grow a business.
If #1 to #5 above are not for you, it may be better to work for a company doing what you love than trying to build your own business. That's up to you, but let 2017 be the year that you decide to get off the fence whether that is rocking your own business which will not be easy but is also possible or working with someone else.
FYI, this blog post is just over 1,100 words at this point. Congrats if you have read it to the end. Imagine how much longer it would be if there were another 900+ words to get it to the 2,000+ recommended.
If you enjoyed this post, please use the social icons below to share it and/or feel free to comment.
The following two tabs change content below.
Short Bio About The Author:
I'm David Williams a professional commercial photographer focusing on corporate and business clients with some personal branding, lifestyle photography in the mix. My love for photography began in late 1981 while still in High School. I started making money with his camera in 1982. Brenda, my wife, and I started working together in photography in 1988 shortly after we met. Brenda and I married in 1989 and have two adult daughters. Please be sure to
get a quote for services
if needed. Call or Text:
919.723.8453
. Please reach out to connect with me on
LinkedIn.
Latest posts by David Williams (see all)