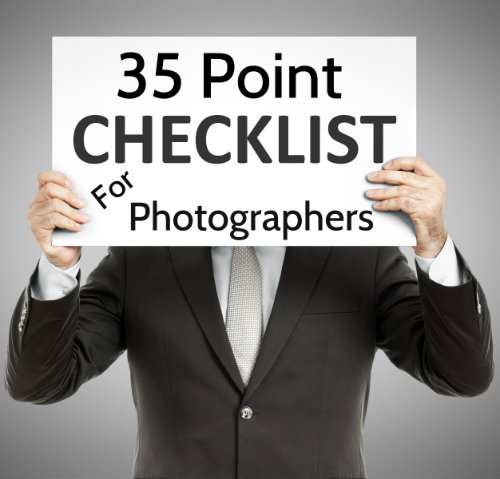 I created this simple 35 point checklist for Photographers in a matter of minutes. I simply started typing a list of things that quickly came to mind that can help both new and established photographers. 
There is no way that you can manage every point effectively because it's so many things to consider. The list is meant to be a checklist for you as you grow your photography business or a reminder for established photographers of things they may want to get to. For example, I am NOT currently doing YouTube videos, but it's something that I'd like to get to at some point. I can use this list to remind me of that.
There are some things on the list that only take a few minutes of your time. There are other things that will be time consuming and take dedication. Blogging, for example, is a time consuming task that takes commitment. However, you could start out blogging just once per week because consistency once per week is better than blogging everyday for one week and not blogging again for 6 months.
The list does not include details of how to do everything. Some of it is easy to figure out and other items on the list will take some time to figure out and implement. The key is to have a working list that you can use as a checklist for your photography business. So feel free to bookmark this page, email it to yourself or print it out.
Finally, this list is by no means all inclusive. I didn't include things like hire an account, get business insurance, buy Quickbooks and much more. 
Here's the list:
Get Business Cards
Create A Website
Create A Blog
Setup A Facebook Business Page
Setup A Twitter Account
Setup A Google Plus Page
Setup A Google My Business Page
Setup A Instagram Page
Setup A LinkedIn Personal Profile
Setup A LinkedIn Business Page
Setup A Yelp Account
Setup A YP.com Account
Join The Chamber
Find A Meetup Group
Join A BNI Group
Go To Networking Events
Shoot A Charity Event For Free
Send Out Emails (Current Contacts)
Build An Email List
Build A Referral Network
Find A Mentor
Assist For Free
Use YouTube.com For Training
Create YouTube Videos
Start A Podcast
Use KelbyOne.com For Training
Use CreativeLive.com For Training
Follow Other Photographers Online
Follow Photography Brands Online
Read Photography Blogs
Join PPA.com - Includes Monthly Magazine
Subscribe To Photography Magazines
Give Referrals - Ask For Referrals
Never Stop Building Your Portfolio
Try New Things (Lighting, Techniques, etc.)
If you think another photographer may enjoy this list, please use the social icons below to SHARE IT.
The following two tabs change content below.
Short Bio About The Author:
I'm David Williams a professional commercial photographer focusing on corporate and business clients with some personal branding, lifestyle photography in the mix. My love for photography began in late 1981 while still in High School. I started making money with his camera in 1982. Brenda, my wife, and I started working together in photography in 1988 shortly after we met. Brenda and I married in 1989 and have two adult daughters. Please be sure to
get a quote for services
if needed. Call or Text:
919.723.8453
. Please reach out to connect with me on
LinkedIn.
Latest posts by David Williams (see all)