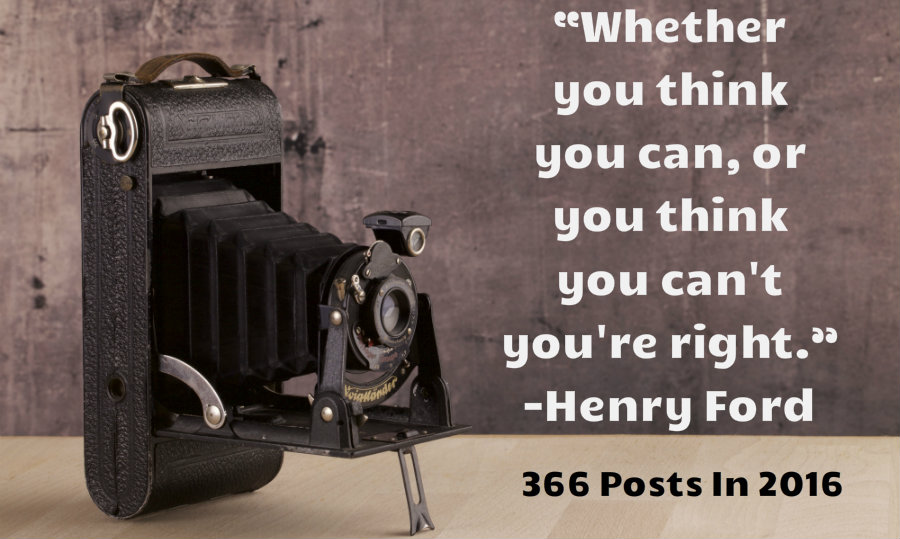 Yes, there are 366 days in 2016 because it is a leap year. So 366 photography relevant posts would be 1 per day for a full year.
Don't get my wrong. I do believe quality is better than quantity. However, as long as I'm posting valuable photography related content that readers will enjoy, there is nothing wrong with posting a photography related post per day for 366 consecutive days.
Here are random ideas of what I hope to post, how I plan to accomplish it and why I'm doing it:
1) The key is to stay ahead by writing in advance. I did have one period in 2015 that I was caught up for 3 weeks with 3 blog posts per week which would only be 9 days worth of posts under the new plan. That 3 weeks quickly passed and I found myself playing catch up. If you are new to blogging, set a goal of just ONE blog post per week and try to stay ahead by writing at least two posts at the time.
2) Writing the blog post is not the challenge for me because the words seem to flow along as I type. I also get up early on a regular basis and find that it's much easy to write in the early morning. Some of you reading this may be on the opposite end of that by staying up late. You just have to find what works for you. It's the tagging of the post that drives me crazy. I think relevant tags are important and I try to associate 5 to 10 of them per post.
3) All of the posts will not be 300 to 500+ words long. I love the videos on the Profoto YouTube Channel and may post a short paragraph and share the video. However, I don't plan to make that my lazy plan and do that 9 out of 10 posts. My goal is to not do that more than 3 out of 10 posts which means that I still have to write 7 out of 10 blog posts that are at least 300 words long which is about the length of this post (325 or so) to this point. Some of the posts will be simple graphics for the big holiday's in 2016: Friday, January 1st New Year's Day | Monday, May 30th Memorial Day | Monday, July 4th Independence Day | Monday, September 5th Labor Day | Friday, November 11th Veterans Day | Thursday, November 24th Thanksgiving Day | Sunday, December 25th Christmas Day.
4) There are many reasons for attempting to do 366 posts in 2016 and here are a few that come to mind.
A) I had the idea at the end of 2014 for 2015 and didn't do it.
B) The challenge of it. I know photographers who cannot seem to write one blog post per month. They may not see the value.
C) Google loves fresh content and I want Google to pick up on the fact that I am relevant to the photography industry.
D) To provide content to my readers that brings value. Out of 366 posts, there should be several that readers love.
So for anyone thinking about blogging, this post is just over 500 words to this point which gives you an idea of the length (519).
The following two tabs change content below.
Short Bio About The Author:
I'm David Williams a professional commercial photographer focusing on corporate and business clients with some personal branding, lifestyle photography in the mix. My love for photography began in late 1981 while still in High School. I started making money with his camera in 1982. Brenda, my wife, and I started working together in photography in 1988 shortly after we met. Brenda and I married in 1989 and have two adult daughters. Please be sure to
get a quote for services
if needed. Call or Text:
919.723.8453
. Please reach out to connect with me on
LinkedIn.
Latest posts by David Williams (see all)