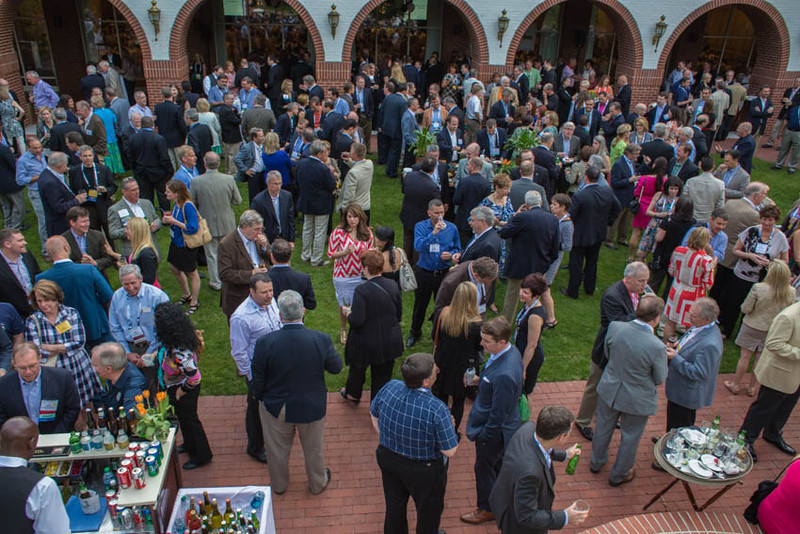 I absolutely love shooting corporate events and working with companies of all sizes from small business to multi-billion dollar international companies. In this post, I'll share a few tips that may help you with your own event photography whether family, consumer or corporate.
The image that you see to the right was shot in Pinehurst, North Carolina at a 5 day corporate event that I covered. It's not the full crowd, but gives you a general idea of the size. This shot was taken from up above as you can see. There was a brick area that I could stand on securely and shoot down on the crowd.
These 7 tips are in no particular order:
Tip 1 - Use a Flash - Inside and Out - There will be times at an event that you cannot use a flash for various reasons like maybe a keynote speaker on stage or the wedding vows being exchanged at a wedding. However, I recommend using flash whenever possible both inside and outside.  If you don't know how to use a flash, you should get a TTL Flash for your camera and start. Existing light doesn't always work. Check out the 3 hour video guide to flash photography.
Tip 2 - Batteries - Make sure your camera battery is fully charged and have backup batteries.  It's plural because I suggest having more than one back up battery for your camera.  As for flash batteries, have plenty or an external power pack (recommended) that recycles faster. You can get something like this that holds 8 AA batteries that will give you better recycle time and last a lot longer than the 4 batteries in your flash.
Tip 3 - Have a backup camera body and a backup flash - I realize that this is an extra expense that you may not have in your budget as far as purchasing backup equipment.  However, with numerous rental sites like Borrow Lenses or your local camera store (in my case Southeastern Camera), you have no excuse not to have backup equipment and you can even add it to your pricing if needed. You know what you want to charge and the rental is $100. That's easy! Quote $100 over your rate to cover your cost of rental. Although I do corporate event photography, I am not showing up to a 5 day event like the one I shot in Pinehurst with one camera body and one flash. If you shoot weddings, you BETTER have backups with you. I would not hire a wedding photographer that said he/she doesn't have backup equipment. RENT!!!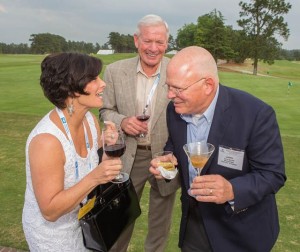 Tip 4 - Always be ready - Whether you are shooting a corporate event or a consumer event, there is always something going on when you have numerous people gathered together. For the shot that you see on the left taken in front of the golf course, I was ready with camera and flash to grab the shot of these people cutting up and laughing.  In this case, they had asked me to take a picture of the three of them. Instead of photographing them near a bunch of other people, I asked them to step about 50 feet away to have the golf course behind them. They started cutting up and laughing and this is one of several shots that I got of them beyond the shot they wanted.
Tip 5 - Stay out of the way, but don't stand in one spot - When photographing events, try to stay out of the way while not simply standing in one spot. This one will take some practice if you are not used to it. Be sure to move around at events but also try to be invisible so you will not annoy people. I have gotten very good at doing this.  I like staying on the move which helps me get better shots. One reason that I got hired for the Pinehurst event is because the previous photographer would not move around and primarily stood in one spot to get the shots which as you can imagine are not the same as a photographer that actually moves around.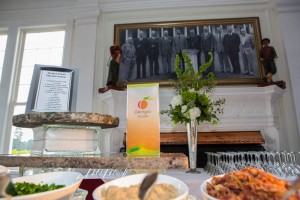 Tip 6 - The Venue - Don't forget to get some shots of the venue without people in the shots. The table setups, the facility, the food, etc. This will add to your final delivery of images by having some venue shots in the mix.  The shot on the right has no people in it but shows the venue setup nicely.
Tip 7 - Angle - Don't just shoot standing in one position at eye level. Squat down and shoot up (like the image to the right) or stand on something stable (WARNING - I'm not responsible for your falls.) to shoot down. Although it's not pictured here, the venue of the shot that you see on the right had a balcony. I asked a staff member how to get up there and shot several images from the balcony to create a different angle and perspective.
I could continue on with tips, but I'll stop with these 7. Happy Shooting!!!
About Me: I'm located in Raleigh, North Carolina but shoot internationally. My specialty is corporate event photography, corporate headshots and people related commercial photography (not products). Please feel free to contact me ... David [@] dwppc [.] com. If you are interested in hiring me for your corporate event, please call me direct at 919.723.8453 or use the online contact form.
The following two tabs change content below.
Short Bio About The Author:
I'm David Williams a professional commercial photographer focusing on corporate and business clients with some personal branding, lifestyle photography in the mix. My love for photography began in late 1981 while still in High School. I started making money with his camera in 1982. Brenda, my wife, and I started working together in photography in 1988 shortly after we met. Brenda and I married in 1989 and have two adult daughters. Please be sure to
get a quote for services
if needed. Call or Text:
919.723.8453
. Please reach out to connect with me on
LinkedIn.
Latest posts by David Williams (see all)