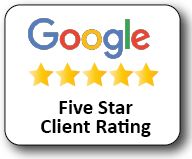 We are passionate about what we do and operate a client centric business. You can see that have earned over 260 Five Star Reviews on Google.
Here's a review from Teresa H.
"Truly a great experience! David is great to work with, he finds the most flattering angles for photos! He shoots so many great shots it's hard to choose which ones you want. The retouch is so subtle. I also recommend teaming up with Kate Leser when you have your photos done! She's a great resource for makeup tips, clothes choices, and on-site during the shoot to pay attention to the small details like collars and necklaces. Thanks DWPPC for a great result! Teresa"