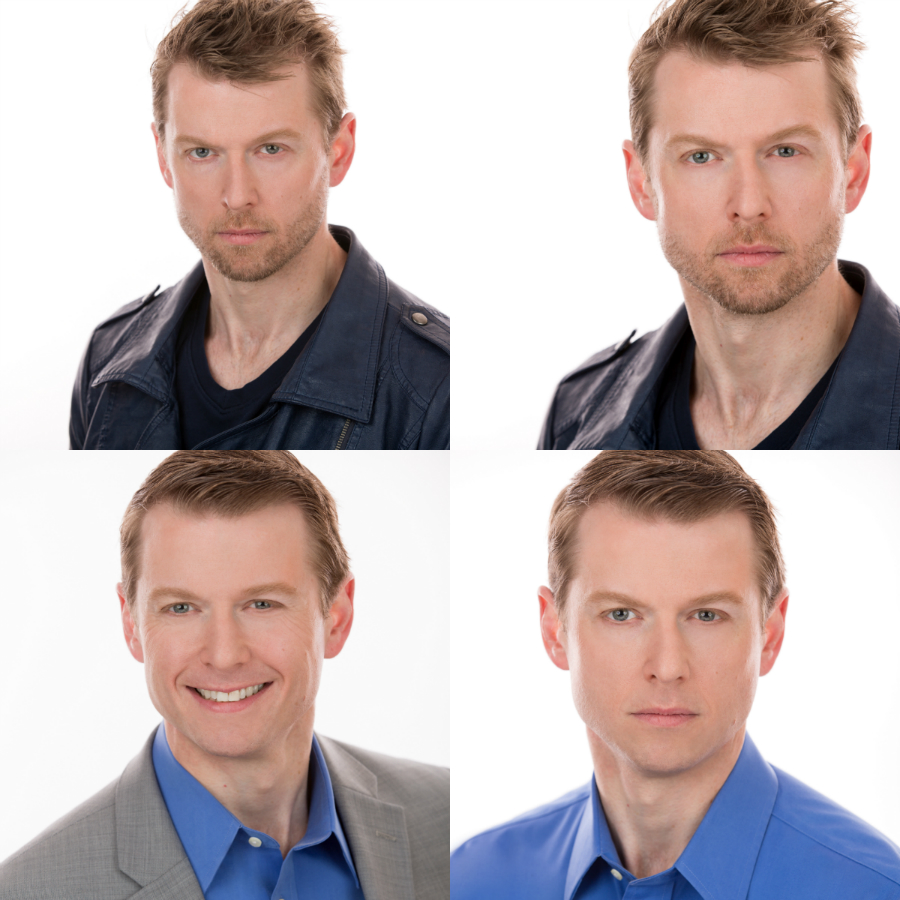 I shot the acting headshots above in the last 30 days at our North Raleigh studio. Although they are currently the first images you see on our acting headshots page, they will likely be updated overtime with other images.
I'll give you an good idea of how the session above came about from the beginning through the edited images above. I think you'll find it interesting.
The guy pictured above was originally a business headshot client. However, he is an amazing martial artist which has lead him to pursue a dream of doing some acting and stunt work. As you'll notice above, he has two very different looks which shows that he could play two very different roles.
When he came back to me to discuss acting headshots, it was more than just scheduling a session. We met at my office weeks in advance and discussed ideas along with a timeline.
Once the session was scheduled weeks out, I put him in touch with Kate Leser (The Makeover Expert) who works with many of my clients for makeup and wardrobe consulting. Kate and the client planned well in advance of the photoshoot. Her fees for an acting shoot start between $100 to $150 (subject to change) for the full 90 minute session which includes 30 minutes prior to the shoot time working with her one-on-one.
For the top two images, you will notice that his hair is messy and he has facial hair. He shaved in between wardrobe changes which yielded the two images in the blue shirt that were taken only minutes later. This is a great way for a man to quickly get two different looks. However, ladies can do the same thing by changing outfits and changing their hair. It just may take a little longer.
I ended up shooting over 400 images in 90 minutes which included multiple variations of his clothing. All shots were done on a white background which is usually the best single option to go with unless the subject needs something more dramatic and dark that may be considered theatrical headshots.
Below is an overview of a 90 acting headshot photo session along with the pricing:
…Up To 90 A Minute Photoshoot With Up To 3 Outfit Changes
…Headshot and Upper Body Shots Only ( Full Length Available For Additional Fee )
…Typically Shot On White Background Only (Ask About Other Options – Including Outside At Our Studio)
…Multiple Lighting Styles ( Optional – No More Than 2 Recommended – NOT extra – simply a time factor )
…300+ Images Taken To Select From ( Ask About How To Get ALL Shots Taken NOT Edited )
…6 Final Basic Edited DIGITAL Images  – Extras With Editing Beyond 6 Can Be Purchased Individually
…Up to 3 Hours of Post Production Editing (Estimated at 30 Minutes Per Image Average)
…Includes Print And Web File Of Each Purchased Image With Lifetime Unrestricted Usage Rights
…Includes A ONE-TIME Only Option To Purchase All Files In Web Format UNEDITED
This package is ONLY $295 which is less than $50 per final image. Each additional image beyond the base of 6 is only $50 each. In addition, if you pay in full within 24 hours of scheduling the session, you'll get a 7th image for FREE making this an even better offer.
To Schedule: Call 919.723.8453 or Use The Online Contact Form
The following two tabs change content below.
Short Bio About The Author:
I'm David Williams a professional commercial photographer focusing on corporate and business clients with some personal branding, lifestyle photography in the mix. My love for photography began in late 1981 while still in High School. I started making money with his camera in 1982. Brenda, my wife, and I started working together in photography in 1988 shortly after we met. Brenda and I married in 1989 and have two adult daughters. Please be sure to
get a quote for services
if needed. Call or Text:
919.723.8453
. Please reach out to connect with me on
LinkedIn.
Latest posts by David Williams (see all)