In the consumer photography world, it's not uncommon for someone to spend $1,000 to $1,200 on a nice consumer camera with a kit lens and think the nice camera will now help the user achieve greatness. Yes, it's true that a good consumer camera can do a lot cool stuff and produce great images, but it's also very true that the person behind the camera is often what really matters in the end.
As a full time commercial photographer based in Raleigh, I believe that several things are true when it comes to commercial photography:
1) Gear ( Professional Gear )
2) Experience ( The Person Behind The Camera )
3) Backup Gear And Cards ( Lots of It )
4) Post Production Editing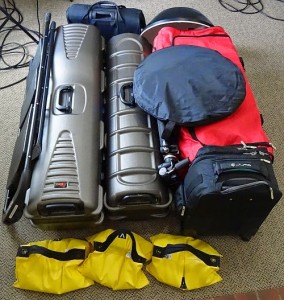 1) Gear ( Professional Gear ) - I believe that professional gear is more reliable and better quality than consumer gear. When it comes to lenses, the glass is a critical element in the quality process. $1,000 to $1,200 will not even pay for most Canon Pro Lenses. If you are looking for a commercial photographer, do you really want them showing up with one bag of goodies or a truck full of goodies like the picture to the left. All that gear means nothing without #2 below: Experience!
2) Experience ( The Person Behind The Camera ) - The person behind the camera that not only knows how to operate all those buttons on the camera but also knows how to work with people on a commercial photo shoot is very much a key part of the end results achieved. On a recent commercial photo shoot, I was asked by the agency contact to do several things that I was able to pull off quickly off the cuff because of experience. Although I did not list people skills separately, experience will help a good commercial photographer know how to work and direct people on the shoot in a manner that is done both efficiently and professionally.
3) Backup Gear And Cards ( Lots of It ) - I shoot all over the US and recently spent 5 days in California photographing a conference. Part of my (our - wife Brenda) commercial photography business includes assignments like corporate events that requires less gear than the image above, but I still flew from East Coast to West Coast with 96 pounds of gear. I had backup everything. And, as luck would have it or bad luck, on the last evening I was in California, I broke my hotshoe one of my camera bodies and the flash would no longer fire properly. Notice I said BODIES. I'm not flying 3,000 miles across the US with one camera body and one lens. Any experienced, true professional, commercial photographer will have lots of backups of everything whether they are shooting local or 3,000 miles away.
4) Post Production Editing - This is Brenda's area of expertise. Commercial photography is not the same without post production editing ( Lightroom & Photoshop ). Anyone wanting to hire a commercial photographer should ask for details about this area because any photographer giving JPG images straight out of the camera is not a truly experienced commercial photographer. It takes post editing most of the time for optimal final images that look truly professional.
I don't do this in every blog post, but if you are looking for commercial photographer in the Raleigh, North Carolina area for a local project or anywhere in the US or abroad, please use the button below or call me direct at 1.919.723.8453.


If you enjoyed this post, please use the social icons below to share it.
The following two tabs change content below.
Short Bio About The Author:
I'm David Williams a professional commercial photographer focusing on corporate and business clients with some personal branding, lifestyle photography in the mix. My love for photography began in late 1981 while still in High School. I started making money with his camera in 1982. Brenda, my wife, and I started working together in photography in 1988 shortly after we met. Brenda and I married in 1989 and have two adult daughters. Please be sure to
get a quote for services
if needed. Call or Text:
919.723.8453
. Please reach out to connect with me on
LinkedIn.
Latest posts by David Williams (see all)