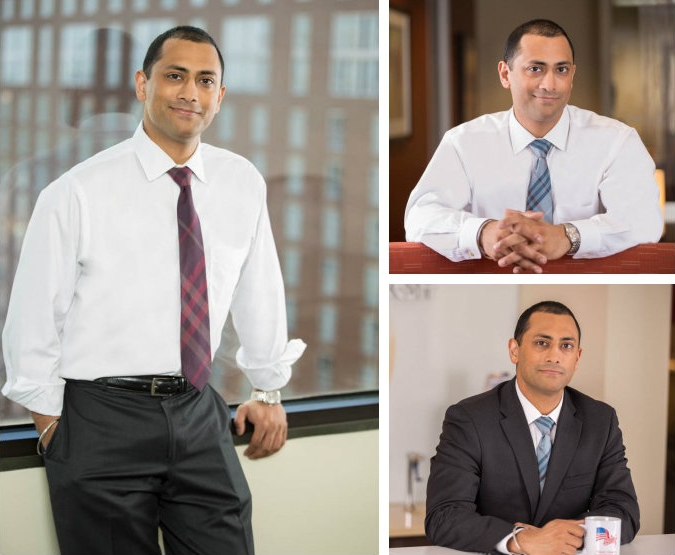 I've have done my fair share of attorney headshots in front of bookcases which are perfectly fine and look professional. However, this shoot in Downtown Raleigh of an individual lawyer gave me some room to be creative.
The largest shot on the left was shot in the big conference room. I made sure that the outside building was noticeable but out of focus. Exposing for the outside and filling in with studio strobes on the inside helped achieve this look.
The second and third shot were taken in the same general area only a few feet from each other. I purposely made the right side of the face brighter with a second strobe in the image in the upper right. On the image in the lower right, I thought a very casual shot with his law firm coffee cup would look nice.
I've done so many in studio classic headshots that sometimes people put me in this little box of that's all I do. The reality of it is that I can do all types of people photography and can cater to the client needs provided it's not overly artsy and more about the art style than the subject. I want the subject to shine through in my photography whether it's a classic attorney headshot in front of a bookcase or something more creative, yet professional, of an attorney being more casual.
If you or someone you know are interested in something classic and/or creative, let's talk. I simply need some samples of other work that you like.
____________________________________________________________________________________________________________
Call me at 919.723.8453 or use the quote button below to fill out my online web form:

The following two tabs change content below.
Short Bio About The Author:
I'm David Williams a professional commercial photographer focusing on corporate and business clients with some personal branding, lifestyle photography in the mix. My love for photography began in late 1981 while still in High School. I started making money with his camera in 1982. Brenda, my wife, and I started working together in photography in 1988 shortly after we met. Brenda and I married in 1989 and have two adult daughters. Please be sure to
get a quote for services
if needed. Call or Text:
919.723.8453
. Please reach out to connect with me on
LinkedIn.
Latest posts by David Williams (see all)