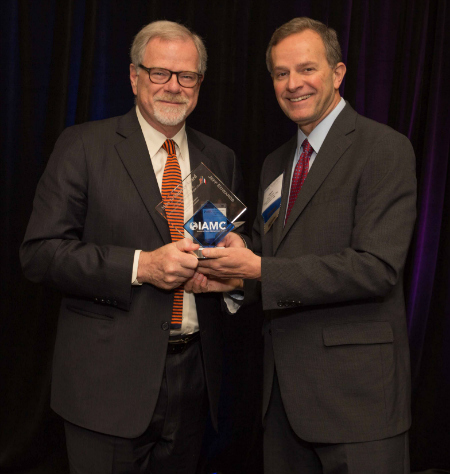 Corporate event photography is one of my core areas of focus. I do not do consumer events like weddings.
The shot on the left was taken in New Orleans at a multi-day corporate conference and was part of an awards presentation during the lunch hour. Yes, it was shot during the lunch hour which means that I had little down time.
Award presentations are just one of the key elements involved with corporate events and conferences. I typically only have a matter of seconds to get the shot and move on to the next presentation. This is one of two shots that I took in a matter of seconds. I like to take two shots if possible in case one of the subjects blinks.
Award presentations may seem like an easy task; however, the presentations are often non-stop with names being called back to back. It can be a lot of pressure on a new photographer or even a veteran photographer that is not use to doing fast paced photography. I have photographed so many award presentations that I am very comfortable shooting them.
If you are a photographer and have never shot an awards presentation or you are an employee within your company that has been asked to photograph an awards presentation because you have a "nice camera," I would suggest that you do a mock presentation to get some practice before attempting to photograph the actual presentation. Again, it may seem like such a simple task, but it's not as easy as you may think. The photographer helps control the flow based on the pace that he or she can maintain to get the shot.
5 Tips To Photographing An Awards Presentation:
1) Experience trumps all - If you are not experienced, practice, practice, practice.
2) Double check all batteries to make sure you can get through the presentation.
3) Have backup gear handy. That's right! You should not rely on one camera.
4) Speak up! Give direction to the subjects: look here, smile, click, thanks!
5) Keep it moving! In most cases, the photographer will likely help control the flow.
The following two tabs change content below.
Short Bio About The Author:
I'm David Williams a professional commercial photographer focusing on corporate and business clients with some personal branding, lifestyle photography in the mix. My love for photography began in late 1981 while still in High School. I started making money with his camera in 1982. Brenda, my wife, and I started working together in photography in 1988 shortly after we met. Brenda and I married in 1989 and have two adult daughters. Please be sure to
get a quote for services
if needed. Call or Text:
919.723.8453
. Please reach out to connect with me on
LinkedIn.
Latest posts by David Williams (see all)