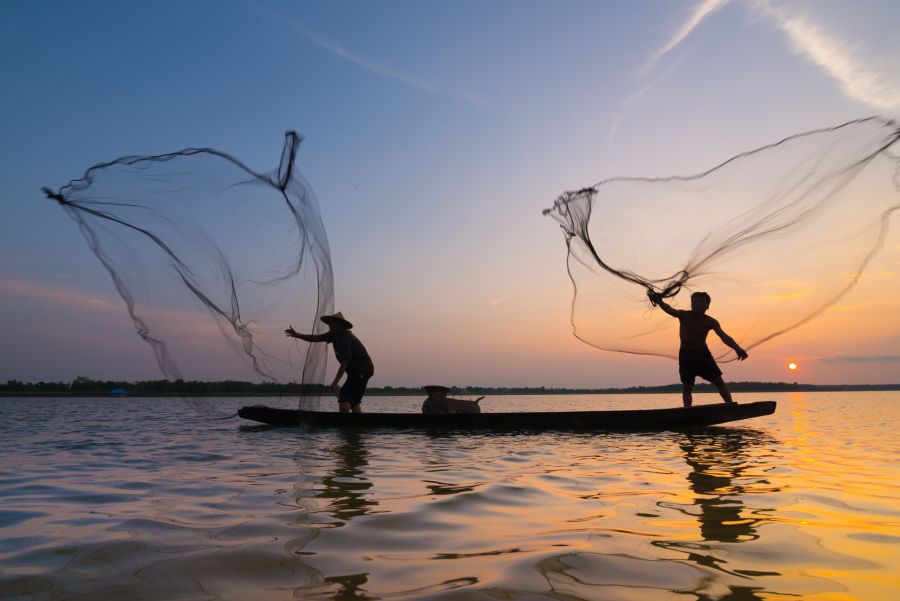 My wife and I make our full-time living off of our photography and video business. Yes, I truly mean 100%. I am thankful for that and it has and still does take a lot of hard work. I said that to establish some credibility with you and to impress upon you that what I am saying below has worked for us. However, there is no guarantee that it will work for you, but I do believe that it's worth a try.
If this is your first time reading one of my posts, you may have not seen that I often talk about sustainability. For example, you may be using a Facebook page currently as your photography website and main source of business; however, is that single resource providing a full time sustainable living for you? Five years from today, will you be in business and making a full time living solely off your Facebook pages. Please keep in mind that the title of this post has full time in it not part time. A Facebook page may work fine for an ongoing part time income as a photographer, but I'm not sure that it will provide a sustainable, long term, full time income.
Casting A Wide Net Or Even Two
I used two fishermen casting two different nets in two different directions for two core reasons. 1) Casting a net means that the fishermen will cover more area than a singe line on a pole. Translation: Don't rely on one resource as your only revenue stream. 2) Casting two nets in two different directions provides more opportunity to catch even more fish. Translation: Even if you try a broader reach than one resource, you may want to try things that give you even more coverage.
Here's The Challenge
Maintaining more than one resource and actually having other resources generate revenue is time consuming at minimum and can even cost money to maintain. Don't get me wrong, I don't think there is anything wrong with having a Facebook page. I have one as well. I'm simply using it as an example to make a point. It could be any single resource as an example and not just Facebook. My point is that you likely need multiple resources to generate a full time sustainable living as a photographer.
You are better off starting out slow with different revenue generating resources that you can actually maintain. For example, don't have a Twitter account just to have a Twitter account. If you cannot maintain it and especially if it's not generating revenue for you, you'll want to think about your Twitter strategy beyond simply Tweeting.
First Things First
First and foremost, if you don't have your pricing model set to be profitable, you are wasting your time trying to sustain a full time income from photography. I wrote a blog post last week "$75 A Pop – It's Probably Not The Best Photography Business Model To Use" which is definitely not an optimal price point for sustainable full time revenue as a photographer.
You have to factor in overhead, taxes, actual income needed to make a living, future gear purchases, marketing and more. You may think that because you work from home that you don't have overhead, but you do. You should have insurance for your business. You have to maintain your car if that's how you get to your shoots. You likely have home internet. At the end of the day, you likely have more overhead than you think you do.
Here's an easy short tip to help you get your pricing profitable. Find out what numerous other photographers are charging by visiting their website, asking others you know and ask those contacting you about other quotes they have received. FYI, $75 is not the standard for family photography in the Raleigh market. Fair, reasonable and competitive, full time photography pricing is $150 on the low end, $350 on the upper mid-range and easily $500+ on the higher end. I know that and I'm not even a family photographer. There some in the Raleigh market that are $2,000+ and you can bet those clients would likely never consider a $75 family photographer.
Even when you know the pricing of others, does that mean that if you charge $150 for family sessions that you will be profitable? NO! So that's why you have to look at all your expenses, what you need to make to make a living and whether the pricing model you have chosen will work for you.
How To Start Generating A Sustainable Full Time Photography Income 
Now that you have your pricing model set to make a profit on each client, you need to figure out how to get enough clients to have a sustainable full time income. FYI, it's not easy, but it's not impossible.
"The things you want are always possible; it is just that the way to get them is not always apparent. The only real obstacle in your path to a fulfilling life is you, and that can be a considerable obstacle because you carry the baggage of insecurities and past experience." – Les Brown
Although I'm not going into great detail in this post, I will mention several things below that you can look into further on your own with a little help from both Google and YouTube. I mention YouTube because there are so many FREE videos that can help provide insight on many resources and even teach you more about  marketing and sales.
Social Media:
Not just Facebook. How's your LinkedIn profile? Are you active on LinkedIn posting and articles? What about Instagram, Twitter, SnapChat, Pinterest and other social platforms? Keep in mind that revenue from social media can often be hard to pinpoint. You should use social media, but use it wisely.
Google: Organic and Adwords
Organic refers to the natural ranking results (SEO).  If you search SEO on Amazon, you'll find lots of affordable books. If you are going to get a book on SEO, I have two quick tips. 1) Get a very recent edition (no older than 12 months ago) because SEO continues to change. However, a lot of the core elements like page titles have been fairly consistent for years. 2) Read the reviews to help you decide.
Adwords is Google's paid advertisement system. Google recently eliminated side bar ads which I personally like that they are gone. You can watch YouTube videos on Adwords and even find books on Amazon. However, I believe that there is huge value in hiring a Google Partner that is certified in Adwords management. Yes, you have to pay that individual to manage your ads, but just like you are a professional photographer for a reason, there are times when hiring other professionals makes a difference.
Yelp Ads
I'm not a huge fan of Yelp ads and have two more months on my campaign before it ends. However, I am a commercial photographer and advertising with Yelp may be better for consumer photographers. Although Yelp will push for 12 months of advertising, you can do 3 months or 6 months and you should ask for their minimum rate because they will push you beyond the minimum rate on 3 months and 6 months. You have the ability to raise it after you get started if you are seeing results.
Website & Blogging
I'm not a fan of a FREE Facebook page that could disappear because of something Facebook decides being used as a photographers primary website which a lot of new and part time photographers seem to do. You should have a regular website on your own hosting plan NOT on a FREE site. In the Raleigh market, I like the work that Think Designs offers.
Having a blog added to your site is fairly easy to do especially with so many websites being driven by WordPress these days. A blog is important because it allows you to produce original content and Google still loves original content.
Thumbtack, Wedding Wire & Other Lead Sources
Although I'm not a wedding photographer, there are plenty of renounces for wedding photographers online like Wedding Wire.  If you are a wedding photographer, it will likely not take much searching to find numerous resources to tap into.
Thumbtack is also a leads source for photographers. Thumbtack is a numbers game, so you'll have to accept going into it that you will not close 100% of the projects you quote on. You may even close under 50% of the projects that you quote on. You'll have to do the math to figure out if what you are spending is profitable and what you are generating in revenue in return. FYI, there are a lot of LOW end leads that come through, but not all leads are like that.
Direct Mail
You've probably heard that direct mail is around a 1% to 3% return which is 1 to 3 inquiries (not closed sales) in 100 pieces mailed out. However, I have personally found it to be closer to 1%. I simply mention direct mail as a possible option, but you have to be strategic about it. You definitely don't want to do a direct mail campaign if you are offering low end $75 family sessions because the ROI will likely put you at a LOSS not a profit.
Referral & Repeat Business
Getting referral and repeat business is awesome because most of it will end up being revenue. Not all referrals will lead to a closed sale, but it's nice to know that past clients send referral business. Repeat business is typically easier to close because there is a relationship directly with the client. Both of these resources take time because you have to have enough business initially to generate referrals because not every  client will readily refer you even with a referral system in place. Repeat business works similar because clients may only have an annual need, but if you have 10, 15, 20+ clients asking for your services every year that can add up nicely over time.
Business Networking
Getting out and meeting other business professionals can lead to business over time. You will likely not be hired or referred on your first encounter with someone at a networking event. However, business networking should be a part of your business growth strategy: Chamber Events, Meetup Groups, BNI and much more.
More Than One Revenue Resource
Even if you are killing it right now with one resource, what if that resource dries up. Things do tend to change and you'll want more than one resource driving your sustainable revenue. Don't rely on just one revenue resource.
BONUS - What About Working For Someone?
Everyone is not cut out for self-employment. It is possible to make a full time living as a photographer working for someone else which is not a bad thing. If you work for another photographer, that photographer may still allow you to work part time under your own brand and potentially even refer projects to you that are not a fit for his or her business.
There are advantages and disadvantages of working for someone else, but that's also the case with self employment. If you find someone that is easy to work for, that makes the job fun and not seem like a job, you could very well find your way into a career in photography through working for another photographer.
If You Work For Someone, Please Have A Vested Interest
A vested interest is defined as a personal stake or involvement. So as an employee, you should provide great service, do a great job, help build the brand and share in helping with the growth of the person you are working for because your vested interest will likely play a key role in the long term sustainability of the business thus helping secure your future as well and becoming a true WIN-WIN for both parties.
If you have enjoyed this post, please use the social icons below to SHARE IT. If you have any comments, you can email me at David [@] DWPPC [Dot] com.
The following two tabs change content below.
Short Bio About The Author:
I'm David Williams a professional commercial photographer focusing on corporate and business clients with some personal branding, lifestyle photography in the mix. My love for photography began in late 1981 while still in High School. I started making money with his camera in 1982. Brenda, my wife, and I started working together in photography in 1988 shortly after we met. Brenda and I married in 1989 and have two adult daughters. Please be sure to
get a quote for services
if needed. Call or Text:
919.723.8453
. Please reach out to connect with me on
LinkedIn.
Latest posts by David Williams (see all)