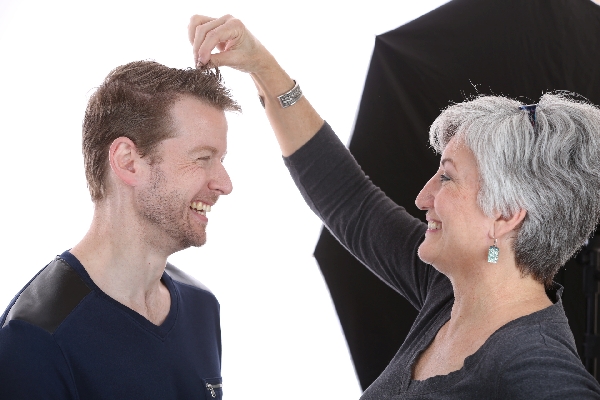 There is more to a successful acting headshot shoot than just standing in front of the camera. You'll either need to be very prepared on your own with your clothing, hair, makeup, etc. or consider utilizing the services of Kate Leser (The Makeover Expert). Kate's fees typically range from $100 to $150+ for an acting headshot session paid direct to her at the end of the session.
As you can see by the image on the left, Kate is having a lot of fun with the client. It does really make a difference to have an expert advise on wardrobe, assist with hair (not style) and either do touchup makeup or provide full blown start to finish makeup help. Don't get me wrong, as the photographer, I do provide advice on clothing and I coach the client during the session. However, as the photographer, I don't do hair and makeup nor do I take the clothing consultation to the level that Kate does as a color expert.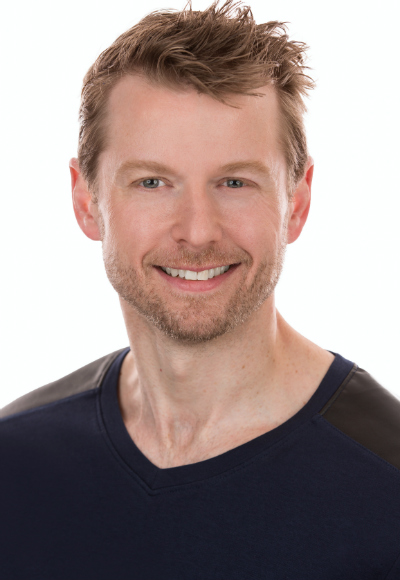 The image on the right is the final edited result in the same outfit with the same client as you see Kate working with. The end result is based on the client being ready, Kate's expertise and involvement, my photography coaching during the shoot and lighting techniques and Brenda's post production editing. This is an example of a complete, full on team effort to yield the results that the client was after.
It is possible to do a successful acting headshot session without Kate in the mix, but don't make that decision based purely on an additional $100 to $150+ investment direct to Kate. You should only make the decision of not using Kate because you are completely clear on what you want to achieve, know that you have it all under control and can work direct with me as the photographer to get it done. Otherwise, Kate should be seriously considered for maximum impact on the final images.
The following two tabs change content below.
Short Bio About The Author:
I'm David Williams a professional commercial photographer focusing on corporate and business clients with some personal branding, lifestyle photography in the mix. My love for photography began in late 1981 while still in High School. I started making money with his camera in 1982. Brenda, my wife, and I started working together in photography in 1988 shortly after we met. Brenda and I married in 1989 and have two adult daughters. Please be sure to
get a quote for services
if needed. Call or Text:
919.723.8453
. Please reach out to connect with me on
LinkedIn.
Latest posts by David Williams (see all)