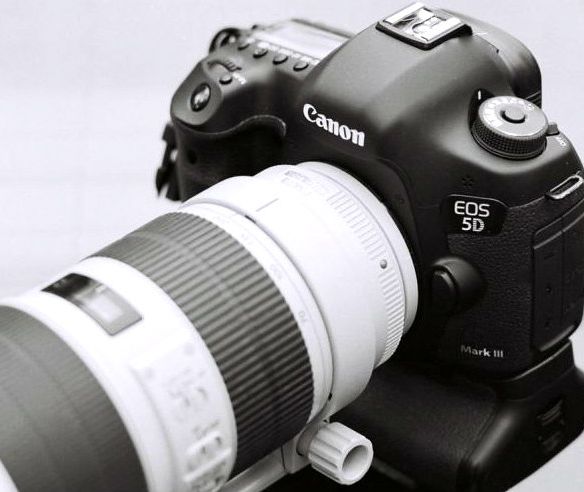 The above image is of one of my Canon 5D Mark III's that I took with my Mamiya 645 film camera outside with the camera sitting on my car.
The Canon 5D Mark III was first released in 2012. It is an amazing full frame PRO DSLR that is used by numerous pro photographers around the world.
Fast forward 3 years to 2015 and the Canon 5DS and 5DSR will be available for purchase in the US on B&H in June 2015 starting at $3,699 for the body only. The Canon 5D Mark IV is expected to be released later in 2015 which will make for 3 bodies with similarities to the Canon 5D Mark III. Don't get me wrong, new releases include the latest technology and upgrades, but all of this leads up to some nice savings for anyone in the market for a full frame PRO DSLR: The Canon 5D Mark III.
The Canon 5D Mark III has worked extremely well for me and several of my fellow photographers who also shoot with it. New releases do not mean that the 5D Mark III is all of a sudden a bad choice with immediate upgrades to new releases being necessary. What it does mean for someone looking for an amazing full frame PRO DSLR is that the regular body only price that has been $3,399 for some time now before any rebates that have recently been $300 bringing the price down to $3,099 is now just $2,499 after a $300 INSTANT SAVINGS. $3,399 before any rebates and $2,499 after instant savings is a nice difference in price.
The Canon 5D Mark III is still an amazing camera. That has not changed by new releases on the horizon. Now's the time to give the 5D Mark III some serious consideration unless you simply have to own the latest release on the market which over time will not remain the latest greatest.
There are still professional photographers who shoot with the Canon 5D Mark II which changed the DSLR world drastically when it was released. The 5D Mark II was discontinued around late 2012 / early 2013 or so. Yet, it is still used regularly in 2015 by numerous professional photographers.
The key thing to remember is that it's NOT about the camera at the end of the day but the person operating the camera. Now don't take that way out of context and think that a Rebel kit lens will yield the same results as a 5D Mark III with an L lens if used by the same professional because equipment plays a role. However, don't get caught up in the hype that the 5D Mark III that you've had your eye on for so long is now the red headed step child because there's some releases on the horizon.
Here's are two links to see for yourself (prices subject to change): B&H and Adorama. Locally in Raleigh, be sure to check with Southeastern Camera.
If you liked this post, please use the Social Icons below to SHARE IT.
The following two tabs change content below.
Short Bio About The Author:
I'm David Williams a professional commercial photographer focusing on corporate and business clients with some personal branding, lifestyle photography in the mix. My love for photography began in late 1981 while still in High School. I started making money with his camera in 1982. Brenda, my wife, and I started working together in photography in 1988 shortly after we met. Brenda and I married in 1989 and have two adult daughters. Please be sure to
get a quote for services
if needed. Call or Text:
919.723.8453
. Please reach out to connect with me on
LinkedIn.
Latest posts by David Williams (see all)