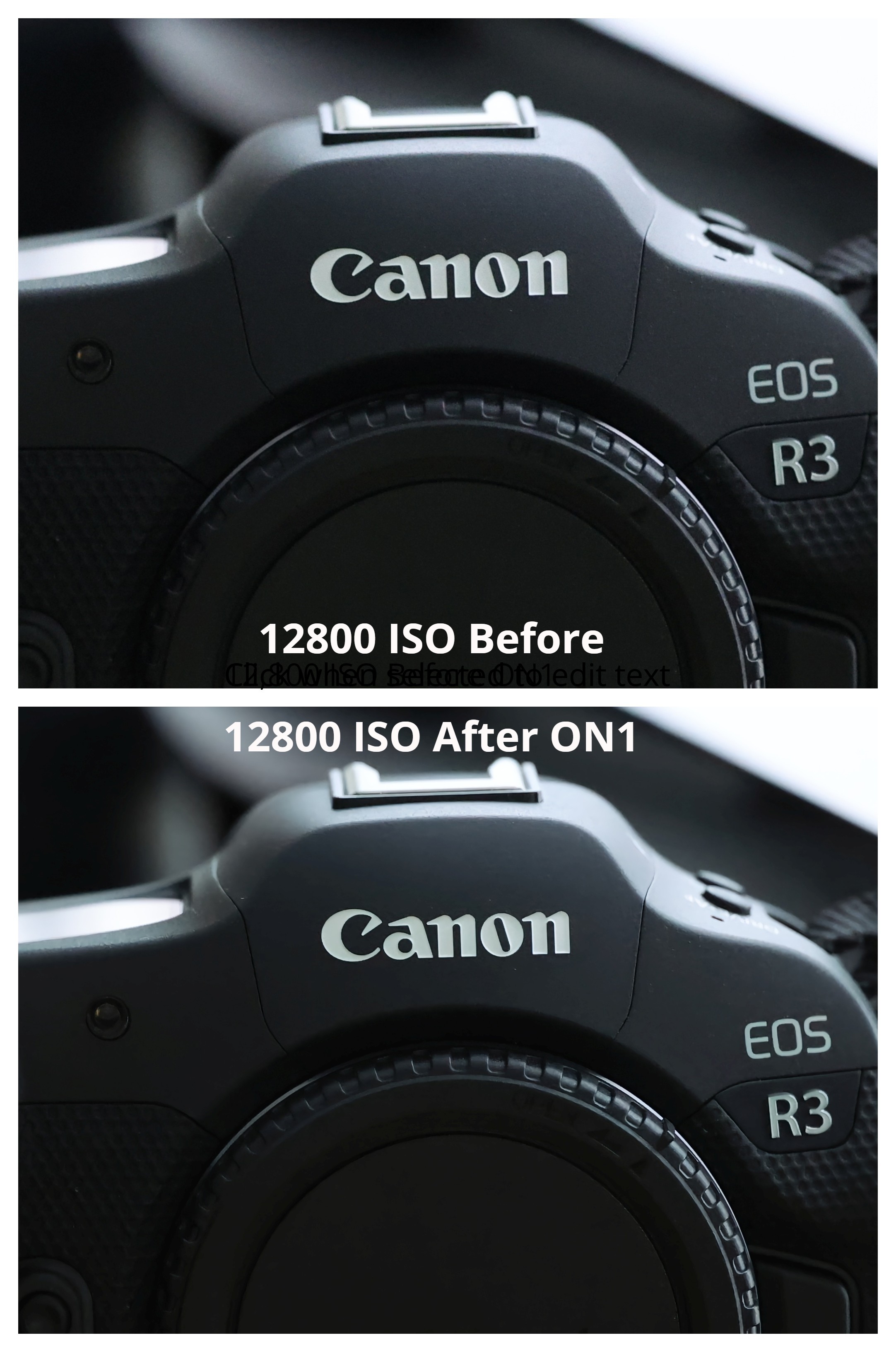 The Canon R3 has lower noise at high ISO settings than other Canon cameras I have owned, but it still does not yield a usable image ( IMO ) at 51200 and especially at 102400. The results out of camera at 12800 and 25600 are not too bad but with the help of ON1 NoNoise AI, the images are better.
Take at look for yourself with 12800 pictured on the left and 25600, 51200 and 102400 further down this page. You'll see the before out of the camera as shot on the Canon R3 and the after version that was rendered via ON1 NoNoise AI.
I have been shooting with the Canon R3 for several weeks now. I feel comfortable shooting at 6400 ISO in low light and would likely make my threshold 12800 for certain situations. Unless you shoot in low light situations like events or weddings, you likely have no need to push your ISO much past 1600.
I am thankful that I discovered ON1 NoNoise AI because it does a nice job of reducing the noise even more. Although there is a noise reduction slider in Lightroom, I believe ON1 NoNoise AI produces a better end result. However, it can be slow to render the results. You may be just fine using the Lightroom option especially if you have a lot of event type images to deliver to your client.
Here's a time comparison: On my older desktop that cost about $1,000 without the monitor, it took about 4 minutes for ON1 NoNoise AI to work it's magic on just one image. However, on Caleb's gaming desktop at the office, it took about 1 minute for the same image. So you'll want to make sure you have the right computer or it will test your patience.
For most of what I do at high ISO settings, the Lightroom noise reduction option will work just fine for a large batch of event images. However, if I'm only delivering 10 to 20 final edited images that were shot at a high ISO, then ON1 will likely come into play. There is an Adobe plugin for the ON1 NoNoise AI and there is a standalone option as well. I'm glad that we have ON1 in case we need it.
As for the Canon R3, I am thankful that I can now shoot at higher ISO settings than ever before should I have a need to. For me, I'm likely going to need the higher ISO option vs. the 45MP of the Canon R5 which does not do as good of a job at higher ISO settings as the R3.
One day, I'm sure that the best of both worlds will be in a Canon camera that has both low noise and a 45MP+ image. Will that be the Canon R1? We will have to wait and see. But for now, the Canon R3, Lightroom noise reduction and ON1 NoNoise AI will get it done for the majority of shooting that I do.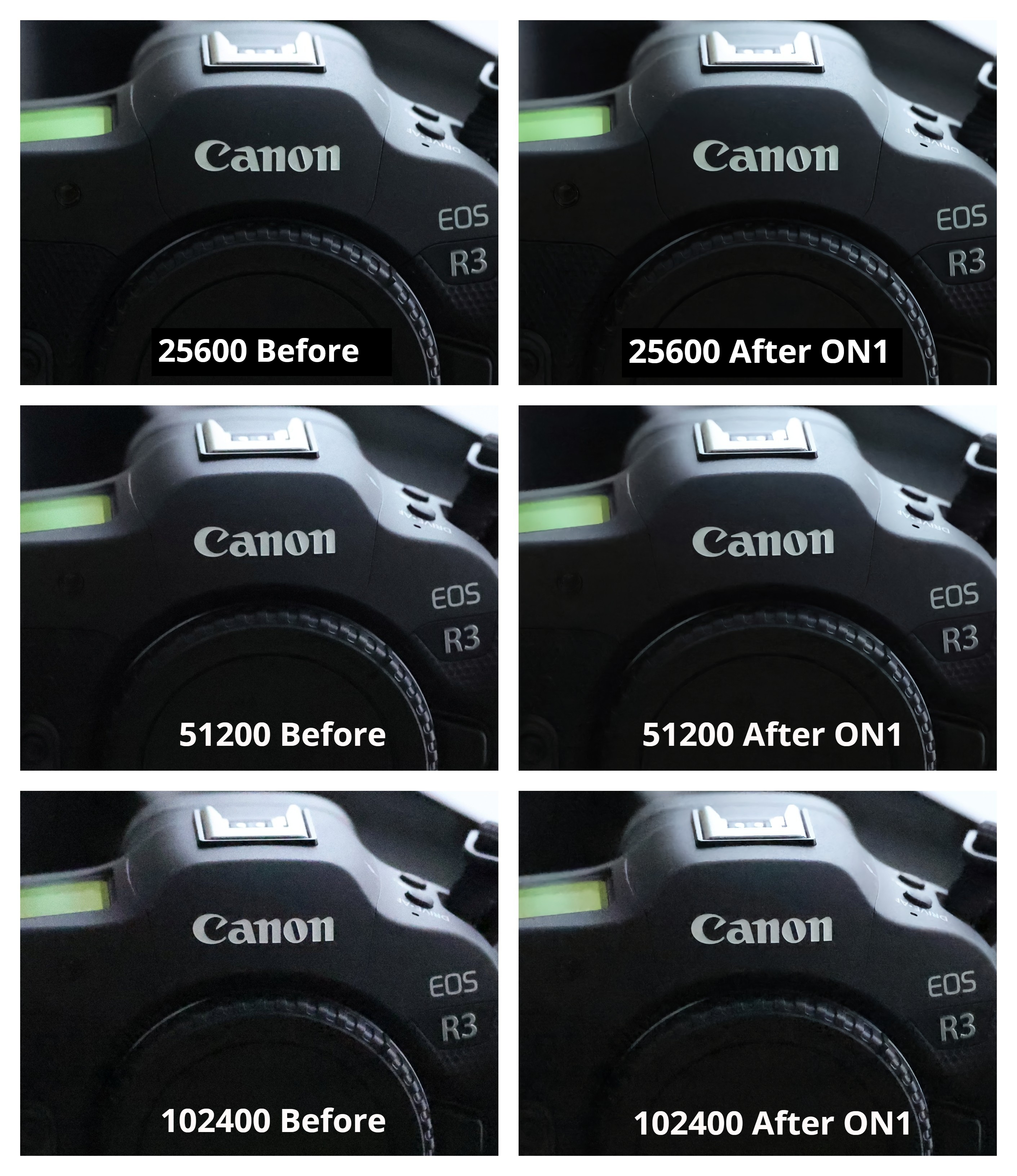 The following two tabs change content below.
Short Bio About The Author:
I'm David Williams a professional commercial photographer focusing on corporate and business clients with some personal branding, lifestyle photography in the mix. My love for photography began in late 1981 while still in High School. I started making money with his camera in 1982. Brenda, my wife, and I started working together in photography in 1988 shortly after we met. Brenda and I married in 1989 and have two adult daughters. Please be sure to
get a quote for services
if needed. Call or Text:
919.723.8453
. Please reach out to connect with me on
LinkedIn.
Latest posts by David Williams (see all)