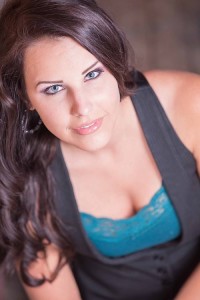 Capturing your essence through the lens of a camera involves more than just pointing a camera phone at yourself and snapping a SELFIE. Don't get me wrong, there is nothing wrong with phone photos like taking a self portrait or having someone snap an image of you. However, to truly capture your essence, that is often accomplished through good lighting, good composition, depth of field and the photographer learning more about who you are.
The image that you see to the left was lit with a softbox strobe (flash) boomed in front above the young lady, a second strobe light in the back of her to add hair light and background light, the room lights turned off, the depth of field set to a low number like f/4 to give a soft focus below her face, the composition in a way to have her off centered cut off somewhat by the frame with me, the photographer (me), shooting from above her while having her look up.  In addition, because I have gotten to know her personality and seen other images of her (in some cases it would be seeing images someone likes in advance of the shoot), it makes it easier to produce an image like this by knowing how to have her smile, the direction to look, the position to have her in, etc.  A good photographer should not just snap, snap, snap like some do on a basic headshot shoot, but a good photographer should take the shoot to a completely different level: Professional. The things mentioned in this paragraph are some of the key areas that separate a professional from an amateur or newbie just getting into photography.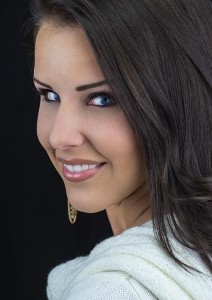 Although the image on the right is a headshot, the composition, lighting and angle help make it a more dynamic headshot.  In this case, the young lady is smiling more versus more of a softer smile like the image above on the left which is part of me as the photographer knowing enough about her to provide direction throughout the photo shoot.  This image was lit by constant lighting versus the one above on the left being lit with strobe lighting (flash).
It only takes a few simple adjustments in many cases to go from a good shot to a GREAT shot.  If you are a photographer, I encourage you to try something new and different.  It's so easy in the digital age.
If you are an individual looking for someone to capture your essence through the lens of a camera, I hope that you will give me the opportunity to speak with you about a lifestyle / personality photo shoot.  You may contact me online or call me at 919.723.8453 whether you or local to the Triangle area or not.
Please SHARE.  You may use the icons below and at the top of this post to SHARE.
The following two tabs change content below.
Short Bio About The Author:
I'm David Williams a professional commercial photographer focusing on corporate and business clients with some personal branding, lifestyle photography in the mix. My love for photography began in late 1981 while still in High School. I started making money with his camera in 1982. Brenda, my wife, and I started working together in photography in 1988 shortly after we met. Brenda and I married in 1989 and have two adult daughters. Please be sure to
get a quote for services
if needed. Call or Text:
919.723.8453
. Please reach out to connect with me on
LinkedIn.
Latest posts by David Williams (see all)