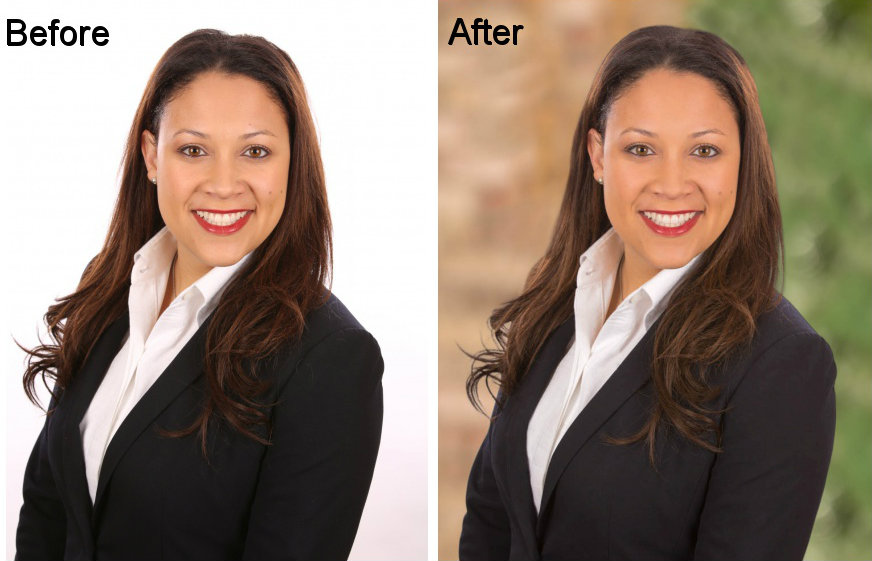 The image on the left above was taking inside a conference room on a white background. The next day, I photographed several other employee's including the owner of the company which is where the outside background comes into play. I actually photographed this same lady outside that day, but she liked her inside shot on the white background better.
Brenda, my wife, does most of my post production photo editing and this is when her expertise kicked in. Brenda cut out the image from the inside on the white background and placed it over the outside background to give the after shot that you see above. I tell people in studio all the time that all I do is push the button and Brenda does the real magic.
One of Brenda's favorite resources for learning new and creative things is Glyn Dewis. Glyn is in the UK and the two of us have kept in touch over the last two years or so since I first reached out to him. If you want to learn more about Cut Outs, check out the Glyn Dewis tutorial below. While you are at it, check out Glyn Dewis on YouTube.
The following two tabs change content below.
Short Bio About The Author:
I'm David Williams a professional commercial photographer focusing on corporate and business clients with some personal branding, lifestyle photography in the mix. My love for photography began in late 1981 while still in High School. I started making money with his camera in 1982. Brenda, my wife, and I started working together in photography in 1988 shortly after we met. Brenda and I married in 1989 and have two adult daughters. Please be sure to
get a quote for services
if needed. Call or Text:
919.723.8453
. Please reach out to connect with me on
LinkedIn.
Latest posts by David Williams (see all)