The image to the right was taken in downtown Raleigh outside the Wake County Courthouse during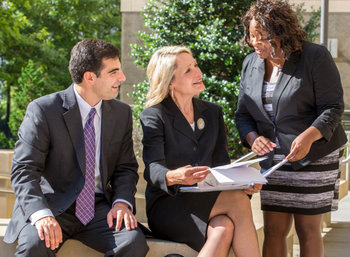 a commercial photoshoot that also included video work. It was a commercial photography shoot for a law firm to use on their website.
The three people pictured are the three that work in the firm. As you know, you can buy stock images online, BUT when your potential customers / clients walk through your door and recognize the people from the website that does make a difference for your brand. Big brands like Ralph Lauren hire models to wear the clothing, but you DO NOT have to have a Ralph Lauren budget to get quality commercial photography that will do your brand justice.
Hiring a professional commercial photographer is a good business move in order to have images that really represent your brand online and in print. Depending on the photographer you hire, the rates could be more affordable than you think and you shouldn't cut corners by using a friend or family member with a "nice" camera unless you have virtually no budget and have no other options.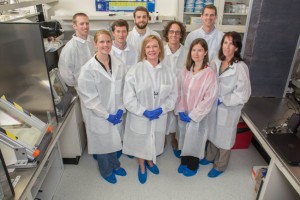 The image to the left was shot for an oncology company at RTP. It was part of a series of inside shots which included most of the images taken in the lab. The company included this group shot of the team in lab coats as well as several key people were photographed outside for headshots. In this case, the company not only needed the images for their website but for their company brochure as well. This was a tight shot using a 28mm lens and two strobe lights that were not positioned in a typical fashion. In addition this shot needed some additional editing because one of the male subjects had his eyes closed. This was their favorite shot out of many, so we added open eyes back to the shot with post production editing.
Hiring a professional commercial photographer that can shoot both inside and outside will make a difference with your brand if you need both settings plus post production editing often plays a critical role in the final image. Not all people with a "nice" camera can do a good job when it comes to inside shots. It is a little easier, most of the time, to get the outside shots to work out. However, even the outside shot in the upper right had fill flash used to help with the shadows. Make sure you ask the commercial photographer that you are considering how comfortable he or she feels with inside photography. If you get a response like "I am a natural light photographer," you might want to keep looking. If you need inside shots, you need to make sure they will represent your brand effectively by being quality images that will work both online and offline.
You can view more of David's work below. Call David at 919.723.8453 if you need Commercial Photography.


The following two tabs change content below.
Short Bio About The Author:
I'm David Williams a professional commercial photographer focusing on corporate and business clients with some personal branding, lifestyle photography in the mix. My love for photography began in late 1981 while still in High School. I started making money with his camera in 1982. Brenda, my wife, and I started working together in photography in 1988 shortly after we met. Brenda and I married in 1989 and have two adult daughters. Please be sure to
get a quote for services
if needed. Call or Text:
919.723.8453
. Please reach out to connect with me on
LinkedIn.
Latest posts by David Williams (see all)