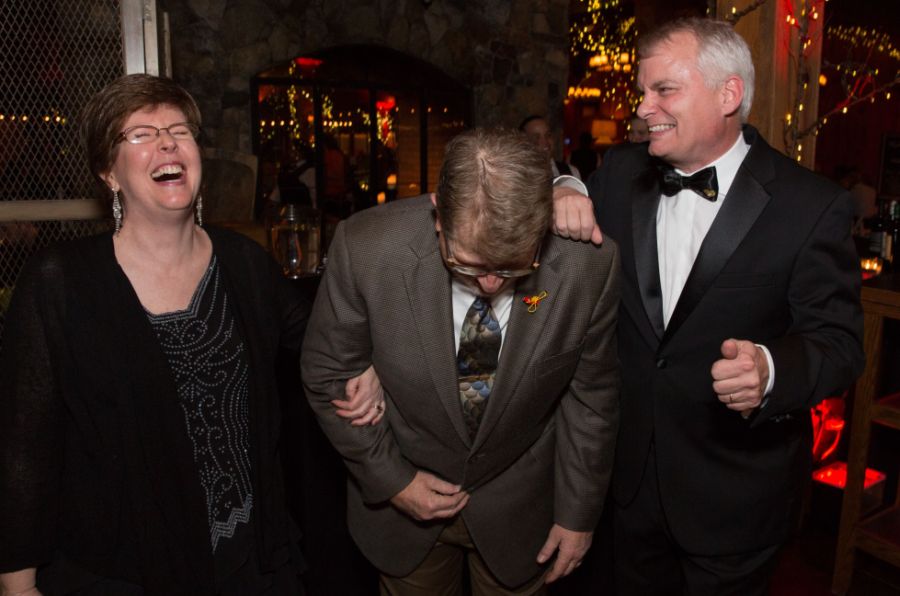 The story behind the image above: I was about to snap a shot of the 3 people pictured. The guy in the middle who happened to be the board President said "Make me tall and handsome." My off the cuff reply was "I can make you tall." They all started laughing so hard the guy in the middle bent over in laughter. That's just one of many ways to capture great shots at corporate events. I have several more in my arsenal.
I am currently covering a 5 day corporate event in New Orleans. Yes, I am Raleigh NC based but shoot corporate events from coast-to-coast. Some companies get the value of having the same photographer cover their events year after year whether they are local to the photographer or not. The value goes far beyond paying for a flight and a hotel room. If consistency and a familiar face behind the camera are important, it may be worth the flight and hotel room to have the same corporate event photographer.
Traveling may seem like a simple enough task, but there are photographers that do not travel regularly with their gear on an airline. It helps to not only know the dynamics of photographing a corporate event, but to also know how to manage all the traveling that can be involved as well. It's not easy traveling with thousands of dollars worth of professional camera gear unless you have a system. In my case, I have my TSA KTN for TSA Precheck and lots of travel cases to hold my gear.
Below are some questions that I posed on a recent LinkedIn article that I wrote about hiring a corporate event photographer that do not tie into the travel piece but should be helpful in your search for a corporate event photographer:
1) What percentage of your event photography work is corporate event related?
2) What is included in your fee?
3) Who will be the photographer at my corporate event?
4) Do you have experience shooting in low light venues?
5) What usage rights do I have concerning the images?
6) How do you deliver the digital files?
7) Will I get both 300DPI and 72DPI file formats?
8) Is any post editing like color and exposure correction included?
9) What is the turnaround time?
10) What companies have you shot for?
Call me direct at 919.723.8453 or use the online form to learn more.
The following two tabs change content below.
Short Bio About The Author:
I'm David Williams a professional commercial photographer focusing on corporate and business clients with some personal branding, lifestyle photography in the mix. My love for photography began in late 1981 while still in High School. I started making money with his camera in 1982. Brenda, my wife, and I started working together in photography in 1988 shortly after we met. Brenda and I married in 1989 and have two adult daughters. Please be sure to
get a quote for services
if needed. Call or Text:
919.723.8453
. Please reach out to connect with me on
LinkedIn.
Latest posts by David Williams (see all)