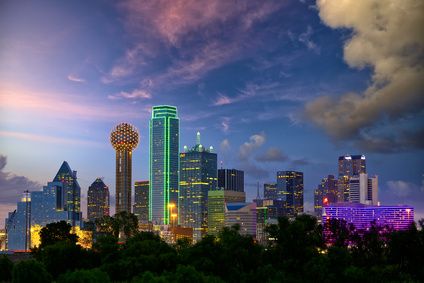 It's Saturday and a busy week is coming to a close. Yes, I have two shoots today, but I'm done by 1 p.m.
The picture on the left is the Dallas skyline (purchased from Fotolia.com). I closed a corporate event photography and video gig this week for a conference coming up that will be held in Dallas, Texas.
I'll be handling the corporate event photography side of the project while at the conference and both John and Keenan will be focused on capturing video footage throughout the conference. Our goal is to provide lots of great still images as well as a highlight / promotional video that will be about 3 minutes in length when completed.
Although I shoot all over the US and have done both photography and video in Texas before, this will be the first time that our team has visited Dallas. It's nice on our first visit to Dallas to be doing both photography and video for a conference which is a core part of our business. We are ready, willing and able to travel anywhere in the US and beyond. It's something that we do on a regular basis.
Two key benefits for companies, organizations and associations having the same photography and video team at their annual meetings around the country and/or around the world or even multiple events or conferences in the same year is that they get consistent results and for those attending to see familiar faces behind the camera. Although I get the value of working with a local company because we are local to Raleigh, having a team that travels saves time in finding different photography and video teams in the host location and risking results that may not be what the client is looking for.
Typically, the only additional expenses are hotel, flight and transportation to and from the airport. When organiztions make decisions 6 months out like this one did for the Dallas conference, the airline tickets round trip for a three man team are only $698. That's the total for ALL 3. Therefore, planning ahead for photography and video can save the organization money.
The following two tabs change content below.
Short Bio About The Author:
I'm David Williams a professional commercial photographer focusing on corporate and business clients with some personal branding, lifestyle photography in the mix. My love for photography began in late 1981 while still in High School. I started making money with his camera in 1982. Brenda, my wife, and I started working together in photography in 1988 shortly after we met. Brenda and I married in 1989 and have two adult daughters. Please be sure to
get a quote for services
if needed. Call or Text:
919.723.8453
. Please reach out to connect with me on
LinkedIn.
Latest posts by David Williams (see all)