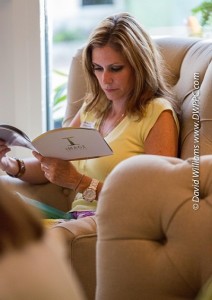 On Wednesday, August 14th, 2013, I am doing my first of several events to be held at the Wake Forest Chamber of Commerce.  You can learn more by visiting eventbrite.
This will be a hands on workshop running from 9 a.m. to 3 p.m..  Attendees should bring a camera, laptop and/or smart phone along with them.  I'll cover tips, techniques, phone apps and more.  I'll even have a special guest speaker Martin Brossman talking about Picassa and Google Plus Awesome.
The image to the right of this text is meant to serve as one simple example of making sure that every image you take is not posed.  I captured this lady at an event reading a brochure and used the foreground to create a different look.  There are so many ways you can shoot an image, so be sure to test out more than just one angle.  You may be surprised at what you end up with.  Sometimes it works and sometimes it doesn't, but you will not know until you try.
Please feel free to share this post using the "Sharing is Caring" across the top of the post or the share buttong just below.  "P" share below gives you lots of options.
The following two tabs change content below.
Short Bio About The Author:
I'm David Williams a professional commercial photographer focusing on corporate and business clients with some personal branding, lifestyle photography in the mix. My love for photography began in late 1981 while still in High School. I started making money with his camera in 1982. Brenda, my wife, and I started working together in photography in 1988 shortly after we met. Brenda and I married in 1989 and have two adult daughters. Please be sure to
get a quote for services
if needed. Call or Text:
919.723.8453
. Please reach out to connect with me on
LinkedIn.
Latest posts by David Williams (see all)