I had the opportunity to speak today at Triangle Lunch Talks on "Explode Your Brand Using Photography & Video."  There are so many platforms that can be utilized these days like the one that I am on now which is my personal blog.  However, one of the most exciting and easy to use platforms that I like using for both photography and video is YouTube.   This is one that I did of Alice Osborn that only took a few minutes to do.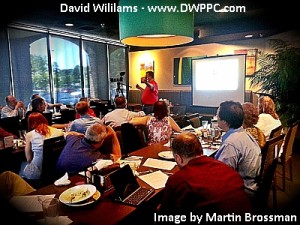 Martin Brossman created a short tutorial on how to do this that you will find here.  You don't have to have a Google Plus account to make it work.  It simply makes it easier if you have Google Plus albums already in place.
My short advice is to find a good photography phone app that will allow you to post to multiple platforms from your phone.  I like Camera Awesome which I am not sure works with Android just yet.  However, there are plenty of photo apps these days, just make sure they allow you to share to more than just Facebook.
Another recommendation that I gave today was taking images of local businesses and places and posting the image on their Google Maps page.  The image below is a panorama that I did at Joyner Park in Wake Forest.  The nice thing is that on the right side, it shows my Google Plus information and even has a link to my website ( see screen shot below ).

The key to anything new you do is to get started doing it. I suggest that you start with things you can do in less than 10 minutes at the time and start doing a few of them. Here are a few 10 minute or less steps.
1) Post an image or video to your Facebook business page then share it on your personal Facebook page which will bring attention back to the business page.
2) Take a picture with your phone of a business or location (like a park), email the picture to yourself from your phone and upload it from your laptop or desktop to the Google maps page of the business or location. Tip: Be sure to rename the file !!! Example: Joyner Park in Wake Forest NC Image by David Williams
3) Add the BLOGGER App to your phone.  Write a 3 sentence blog post from your phone and post an image in the blog post.  Once you hit publish on Blogger, it automatically opens Google Plus.  Then, when it takes you back to your Blogger account, you can TWEET the post out on Twitter.  It's so easy and can be done in under 10 minutes.
No matter how busy you are, you can incorporate the 3 tasks above that take under 10 minutes each to do in your weekly routine while you are on the go.
The following two tabs change content below.
Short Bio About The Author:
I'm David Williams a professional commercial photographer focusing on corporate and business clients with some personal branding, lifestyle photography in the mix. My love for photography began in late 1981 while still in High School. I started making money with his camera in 1982. Brenda, my wife, and I started working together in photography in 1988 shortly after we met. Brenda and I married in 1989 and have two adult daughters. Please be sure to
get a quote for services
if needed. Call or Text:
919.723.8453
. Please reach out to connect with me on
LinkedIn.
Latest posts by David Williams (see all)