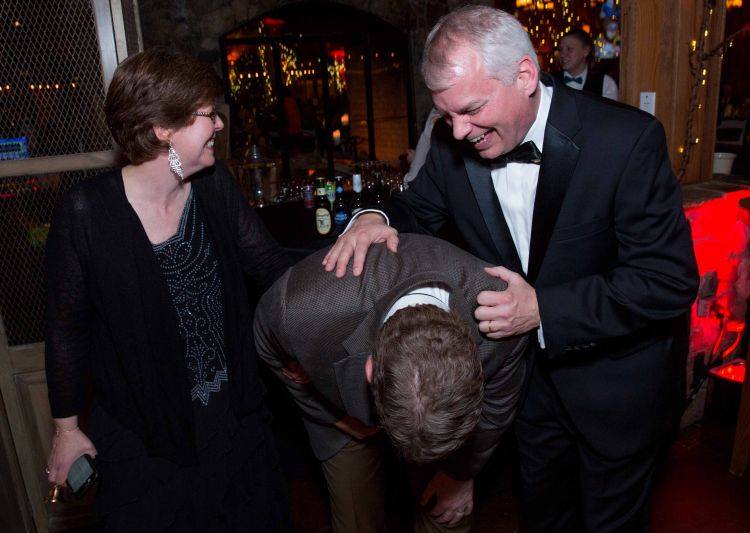 I shoot corporate and charity events. Clients hire me because of experience and my ability to capture lasting moments which are not always just stand and smile shots.
In the image above, the three people were lined up for a classic posed shot. The guy in the middle said can you make me taller and handsome? My reply off the cuff was that "I can make you taller." Notice, I didn't say "Handsome." That comment lead to laughter which you see in the image above including the guy in the middle bending over. The smiles continued into the posed shot. Any good photographer will find opportunities to get the shots that clients will love.
Sell your services based on stories like this that I'll likely share with potential clients. Sell your services based on quality, creativity, results and numerous other factors.  However, DO NOT sell your services based on being the low priced leader. Determine what you need to charge to be profitable, set your pricing and NEVER apologize for your pricing. However, you should make good business decisions and not lose a project over minimal differences. For example, if you charge $500 for X and the client says "The powers that be gave me a $475 budget." It may be a good idea to have some flexibility if that's all it takes to close the deal.
I am rarely the lowest priced event photographer being considered, so it's not a decision that is usually based on the client choosing the cheapest photographer. I work VERY HARD doing corporate events and give the clients my all.
The following two tabs change content below.
Short Bio About The Author:
I'm David Williams a professional commercial photographer focusing on corporate and business clients with some personal branding, lifestyle photography in the mix. My love for photography began in late 1981 while still in High School. I started making money with his camera in 1982. Brenda, my wife, and I started working together in photography in 1988 shortly after we met. Brenda and I married in 1989 and have two adult daughters. Please be sure to
get a quote for services
if needed. Call or Text:
919.723.8453
. Please reach out to connect with me on
LinkedIn.
Latest posts by David Williams (see all)