I thought that it would be nice to bring attention to two High School students in the Wake Forest NC area who plan to pursue a career in photography. They currently focus on individual, couple, children, family and event photography.
Hannah took the image of Grace and Grace took the image of Hannah. They are not only best friends but work together on photo sessions.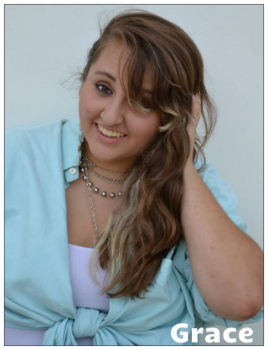 Grace:
My goal at every photo shoot is to capture real emotion through my photos, to show people how they really are. Great photos show people in a real sense, not a fake line up and smile shot. To be able to take a moment and record the memory, for a life time in a genuine manner, is my passion. I am going to be attending Living Arts College in August of 2014 to attain a bachelor's degree in Photography.
See Images from Grace on Facebook and Flickr
I have a passion for photography because I love to make memories. When I take a picture of something or someone, I am capturing a moment that I, or someone else, can look back on and remember forever. I always try to capture love and happiness in my photos. I also try to capture beauty, not by posing people just right or editing them to perfection, but by letting people be themselves and catching them off guard. I love photography and strive to capture love, happiness, and beauty in every shot.
I plan to pursue a career in photography by going to school and learning everything I can about the technical aspects of my ultimate goal: capturing love.
See Images from Hannah on Facebook and Flickr

From Hannah About Haiti:
Haiti was the biggest and best experience of my life. God completely shattered my heart as I taught orphans, fed sick babies, and gave bibles to those who have never laid their eyes on one. I saw the children's faces light up like I've never seen, every time they saw us coming. I saw sick little babies laugh when we came in to take care of them. I saw the tears in people's eyes when I handed them the Word of God. I was rejected many times. People told me no when I wanted to tell the the good news. A countless number of people stuck their fingers up at me as I passed by. I even had a rock thrown at me. But that all seems so small compared to the few lives that I touched. The people who did listen to the gospel, the kids who saw Jesus through me, the bibles that will be read. All the rejection, all the hatred towards me, was worth those few people who came to see Jesus. My heart has been broken and many pieces of it remain in Haiti. But God used the broken pieces to make for myself a new heart. A heart with a new desire to take the gospel to the nations! July 2014 can't come soon enough.
If you are interested in contacting Grace and Hannah about their photography services, please feel free to use my online contact form and I can get them the message for you.
If you enjoyed this post, please use the social icons below to share it.
The following two tabs change content below.
Short Bio About The Author:
I'm David Williams a professional commercial photographer focusing on corporate and business clients with some personal branding, lifestyle photography in the mix. My love for photography began in late 1981 while still in High School. I started making money with his camera in 1982. Brenda, my wife, and I started working together in photography in 1988 shortly after we met. Brenda and I married in 1989 and have two adult daughters. Please be sure to
get a quote for services
if needed. Call or Text:
919.723.8453
. Please reach out to connect with me on
LinkedIn.
Latest posts by David Williams (see all)