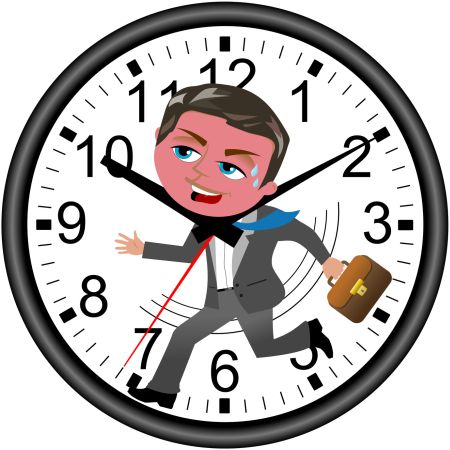 It's not uncommon for business professionals to contact us with urgent needs for a professional headshot.
I've got great news: We can usually help with turnaround of up to 3 edited images within 24 hours. Most of the time, the immediate need is only one headshot, but even you you elect to go with our three headshot, most popular option, we can include all 3 images with basic editing.
There is no need to be like the guy on the left inside the clock that is red faced and sweating. If we cannot get you taken care of, we have other connections in the Raleigh market that may be available.
You can find our headshot pricing here and our current rush charge as of this post is $35 (subject to change) which puts you at the top of the list pending other rush charges paid before yours. With the rush fee paid, we guarantee 24 hour turnaround from the time we receive your selection(s).
The *5 p.m. same day delivery is based on you getting your headshot taken before 12 p.m. and choosing while you are at the studio. Alternatively, you could have your headshot taken anytime and an unedited image emailed to you right away with the edited image(s) to follow. The unedited image must be one that was purchased that will be edited later.


Ready?

Call Us - 919.723.8453

Our Headshot Portfolio Links:
The following two tabs change content below.
Short Bio About The Author:
I'm David Williams a professional commercial photographer focusing on corporate and business clients with some personal branding, lifestyle photography in the mix. My love for photography began in late 1981 while still in High School. I started making money with his camera in 1982. Brenda, my wife, and I started working together in photography in 1988 shortly after we met. Brenda and I married in 1989 and have two adult daughters. Please be sure to
get a quote for services
if needed. Call or Text:
919.723.8453
. Please reach out to connect with me on
LinkedIn.
Latest posts by David Williams (see all)