FYI, before I dive in, the head/hair does not have to be cut into. Some people like that and others don't. So make sure whomever you hire for your headshots knows your preferences. In my case, I leave head room and crop after the fact if needed.
It's not rocket science to turn the camera horizontally when shooting headshots. It actually give a different feel to the image with the added white space.
The headshot above was taken in my North Raleigh studio while doing a headshot session for business use. This is 1 of 3 images that the lady pictured choose.
Keep in mind that a photographer's portfolio will likely only be a sampling of what he or she is capable of. The online portfolio will likely not include every background, every pose and every possible image that you can image.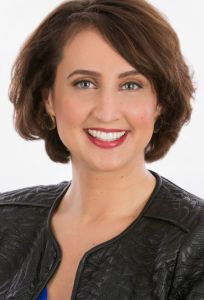 The key to working with a headshot photographer is to discuss what your needs are and what you like (show the photographer examples). But you should also give the photography some range (within reason) of what he or she thinks might work. In my case, I find that clients are often pleasantly surprised when they tried a pose that they may not have thought they would like.
The nice thing about horizontal headshots is that they can also be cropped vertically without a lot of manipulation. If a headshot is taken vertically, white space can be added in post production with extra editing time, but that's likely not  the best route to go. The photographer will actually compose horiztonal shots differently than vertical shots.
If you are considering hiring a professional headshot photographer, ask yourself these 7 questions:
1) Do I like the portfolio? That's obviously a must but ties to #2 below.
2) Do I think this photographer can be creative outside his or her portfolio and match some styles that I like?
3) Does the photographer have an in home studio, business district studio or brings the studio to me?
4) Do I think that this photographer will be easy to work with?
5) What's included in the price that I am paying?
6) Does the photographer include or offer post production editing (Photoshop/Lightroom/etc.)?
7) What kind of experience does the photographer have with headshot photography and is it a core part his/her business?

The following two tabs change content below.
Short Bio About The Author:
I'm David Williams a professional commercial photographer focusing on corporate and business clients with some personal branding, lifestyle photography in the mix. My love for photography began in late 1981 while still in High School. I started making money with his camera in 1982. Brenda, my wife, and I started working together in photography in 1988 shortly after we met. Brenda and I married in 1989 and have two adult daughters. Please be sure to
get a quote for services
if needed. Call or Text:
919.723.8453
. Please reach out to connect with me on
LinkedIn.
Latest posts by David Williams (see all)