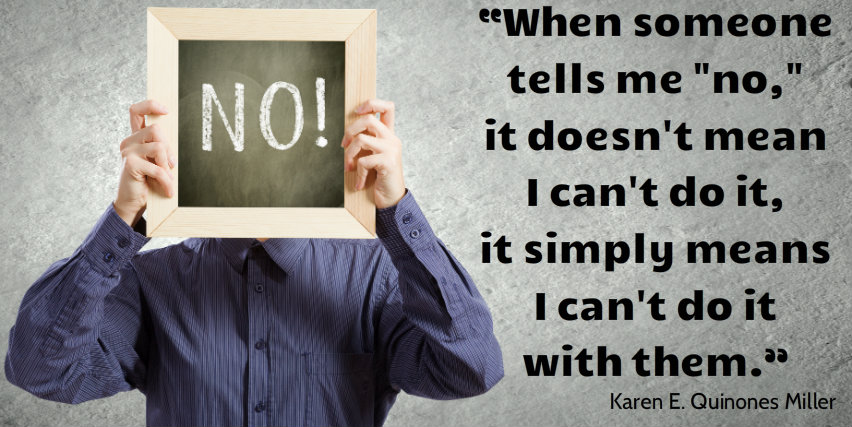 Bottom line, you will hear "NO" or some variation of it on a regular basis in both your career and personal life. It's what you do the "NO" that truly makes the difference.
302 Times
Walt Disney was turned down, rejected, told "NO" in essence by 302 bankers before he was able to find someone to help him with his dream. And you know what they say, "The rest is history."
What's Your Story?
Have you truly beat the pavement in your photography business and heard "NO" over 300 times? If you have, you should have obviously learned something by now. And if you believe in yourself, you will learn from your experiences and move on. If you haven't heard "NO" 300+ times, then you are not talking to enough people. Closing business in photography is like any other business, you'll close some deals and not close others. It's what you learn and do along the way that will really change your business for the better.
Feedback Is Critical
When someone tells you "NO," do you ask for feedback? Feedback is the best way to learn. Even if it is just a one sentence reply "We found someone cheaper." - "The project is being put on hold." - "Your portfolio wasn't what we were looking for because we needed X and just didn't see that." - "You do a lot of weddings and we need a corporate event specialist not a wedding photographer." - "Your headshots are excellent, but we were looking for a family photographer." - "I love all your football photography, but we need someone who can photograph competitive swimming." - "We like the work of another photographer better" - "We just didn't feel that it was a fit." Some are more specific and others are vague but at least it's feedback.
Action or No Action
No matter what the feedback is, try to decide what you will do with it if anything. For example, one potential client may not like your headshots, but you have been consistently successful at closing headshot business left and right. This could be simply a matter of client perception. But if 9 out of 10 potential clients don't like your headshots, you likely have an issue that needs fixing. In the end, it's what you do with the "NO" that will either help your business or hurt your business.
The following two tabs change content below.
Short Bio About The Author:
I'm David Williams a professional commercial photographer focusing on corporate and business clients with some personal branding, lifestyle photography in the mix. My love for photography began in late 1981 while still in High School. I started making money with his camera in 1982. Brenda, my wife, and I started working together in photography in 1988 shortly after we met. Brenda and I married in 1989 and have two adult daughters. Please be sure to
get a quote for services
if needed. Call or Text:
919.723.8453
. Please reach out to connect with me on
LinkedIn.
Latest posts by David Williams (see all)