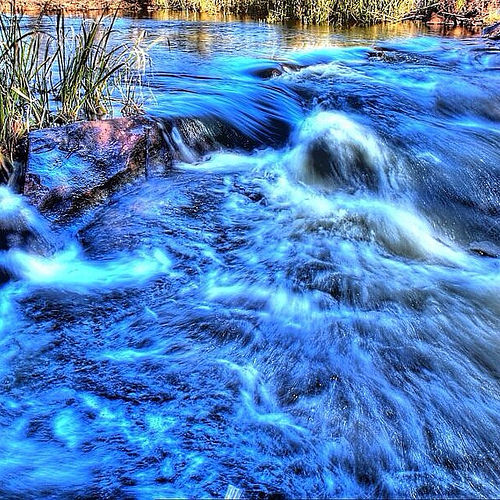 I shot the image on the left just to shoot something different and to test my skills of blurring water. It was almost like playing golf (rarely do) because it was a sense of escape to focus on something different than what I get paid to shoot.
It was nice just to grab my tripod and camera bag and head out to shoot just for fun which is something that I hope to do more of in 2016.  Shooting personal projects can also help hone skills in other areas like trying new lighting techniques.
Most photographers are involved in photography because they love being behind the camera creating images. Even full time professionals probably spend more time on other areas of their business than actually being behind the camera.
It's important to not get lost in the business of photography and to shoot things that you enjoy shooting outside of what you get paid to shoot. Imagine just shooting a personal project just for the fun of it and to continue to try new things that may become a part of your photography business.
Joel Grimes is a photographer that I like who spends time on personal projects for his business. This allows him time to try new things that he may not otherwise have the time to do on a time crunched deadline for a client looking for something specific that Joel can deliver. He can then decide what to incorporate into his business offerings.
If you don't have a lot of photography business, you should definitely spend a lot of your time shooting personal projects that can help you in your business in order to try lighting techniques and keep your skills fresh until you get busier. You should also shoot some stuff just for fun which is different than shooting something that you really have to focus on what you are doing: Just Shoot!
Bonus Thought For Photographers: If you are not blogging, keep in mind that this post is less than 350 words and only took a few minutes to write.
The following two tabs change content below.
Short Bio About The Author:
I'm David Williams a professional commercial photographer focusing on corporate and business clients with some personal branding, lifestyle photography in the mix. My love for photography began in late 1981 while still in High School. I started making money with his camera in 1982. Brenda, my wife, and I started working together in photography in 1988 shortly after we met. Brenda and I married in 1989 and have two adult daughters. Please be sure to
get a quote for services
if needed. Call or Text:
919.723.8453
. Please reach out to connect with me on
LinkedIn.
Latest posts by David Williams (see all)