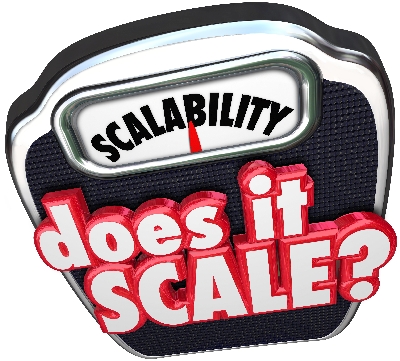 One of the definitions of scalable is to be able to be changed in size.
Assuming that you want to grow your business in size and not get smaller, you are limited by being a solopreneur. In other words, there is only so much growth you can have by doing all the work yourself like shooting, editing, marketing and so many of the other things that being a solopreneur requires.
Just last week, our photography and video group in Raleigh had a guest speaker: Elyse with SixFigureSalesCoaching.com recommended that each of us figure out our average hourly wage and decide on what tasks may be able to be delegated to someone else thus freeing up time to work on higher level tasks. For example, if someone makes $50,000 per year, that works out to be $24.03 an hour (based on 50K/52 Weeks/40 Hours). So if my time or your time is worth $24.03 an hour, why should me or you be doing a task that we can pay someone to do for $10, $12 or even $15 an hour especially if delegating a task will get the business to the next level by freeing up time for high level tasks that can create more revenue and profits.
What are the things that you do now that could be delegated? Editing, Social Media, Running Errands, etc. Try to make a list of all those things and ask yourself "What if I paid someone to do this task? What else could I do with my time to get to the next level?"
This post, like many of my blog post, was sparked by what Elyse said above but also a fellow photographer that I had coffee with this morning who is still doing pretty much everything from A to Z himself. He is doing well, but like any soloprener, especially in photography and video, he has a cap based on how many hours there are in a day and how much one person can do while maintaining a work life balance.
I have always loved good ol basic math (not Algebra). The type of math that is used in the everyday business like add, subtract, multiple, divide and percentages. For example, if a photographer offers a service that he or she is charging $225 for and 90 minutes of that is editing, what if that photographer paid a student at one of the local colleges (Living Arts College in Raleigh and The Art Institute of Durham) that has solid editing skills $12 an hour to edit for 90 minutes? That's $18 which is a new expense that comes off the $225 which leaves the photographer a gross margin of $207. However, what if this same photographer added just one more $225 project per week (not per day) and that project could cover all the 90 minute editing for the week: $225 / $12 an hour = 18 hours and 45 minutes of editing which is about (12) 90 minute editing projects based on 90 minutes per project. The photographer could potentially break even while freeing up all those editing hours.
What could freeing up 18 to 20 hours per week do for your business especially if your total out of pocket was about $1,000 per month? How much more revenue could you generate by paying out $1,000 per month for tasks that are not at your pay grade? Do you see this as an expense or as a way to grow?
Now, what's your next move?
If you have any questions, please email me at David [@] DWPPC [dot] com. Please feel free to connect with me on Social Media:
If you enjoyed this post, please use the social icons below to SHARE IT.
The following two tabs change content below.
Short Bio About The Author:
I'm David Williams a professional commercial photographer focusing on corporate and business clients with some personal branding, lifestyle photography in the mix. My love for photography began in late 1981 while still in High School. I started making money with his camera in 1982. Brenda, my wife, and I started working together in photography in 1988 shortly after we met. Brenda and I married in 1989 and have two adult daughters. Please be sure to
get a quote for services
if needed. Call or Text:
919.723.8453
. Please reach out to connect with me on
LinkedIn.
Latest posts by David Williams (see all)