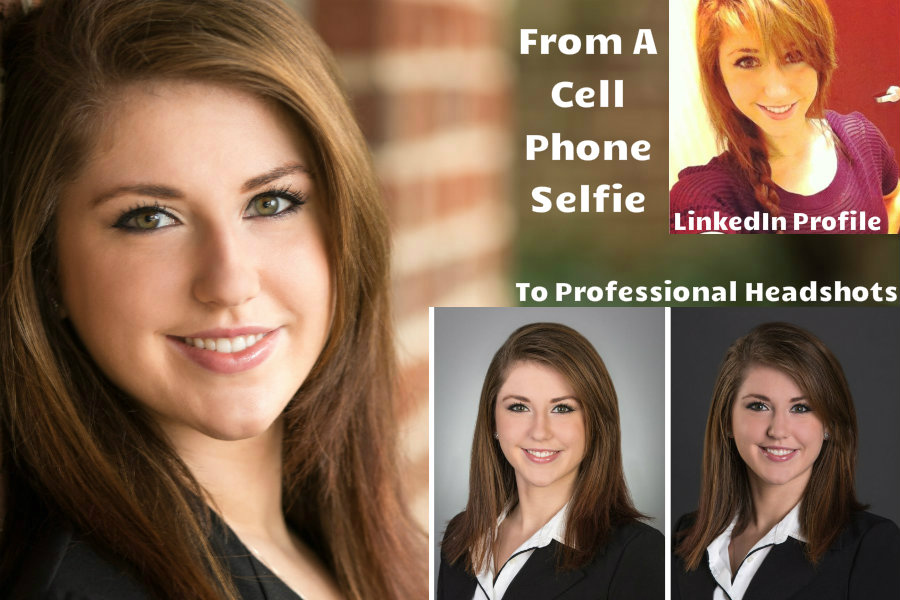 The client above gave me permission to use her LinkedIn selfie to compare with the updated headshots that she got from me to use on LinkedIn and for other professional purposes. I hope you can figure out which is the cellphone selfie without struggling very much. YES, she has updated her profile from the cellphone selfie to one of the three professional headshots above.
It still amazes me how many people use cellphone selfie shots on their LinkedIn profile. That is 100% OK on Facebook, but LinkedIn is the professional side not the everyday social side like Facebook.
The selfie that still floors me the most is the person sitting in their car using a phone to take a selfie shot. I'm not sure why people think they look so good in their car. Oh, and my apologies if you are using the inside your car shot on your current LinkedIn profile.
Yes, I'd love to earn your business and provide you with a nicely shot and retouched image for your LinkedIn profile, but if you don't come to me, please at least find someone else that can provide a quality image far better than a cellphone selfie for your LinkedIn profile headshot. It will make a huge difference in the first impression your profile gives when others see it.
For Photographers: If you are a photographer reading this and are not writing blog posts on a regular basis. Keep in mind that this blog post is less than 300 words long. It only takes a few minutes of your day to write a blog posts.
The following two tabs change content below.
Short Bio About The Author:
I'm David Williams a professional commercial photographer focusing on corporate and business clients with some personal branding, lifestyle photography in the mix. My love for photography began in late 1981 while still in High School. I started making money with his camera in 1982. Brenda, my wife, and I started working together in photography in 1988 shortly after we met. Brenda and I married in 1989 and have two adult daughters. Please be sure to
get a quote for services
if needed. Call or Text:
919.723.8453
. Please reach out to connect with me on
LinkedIn.
Latest posts by David Williams (see all)