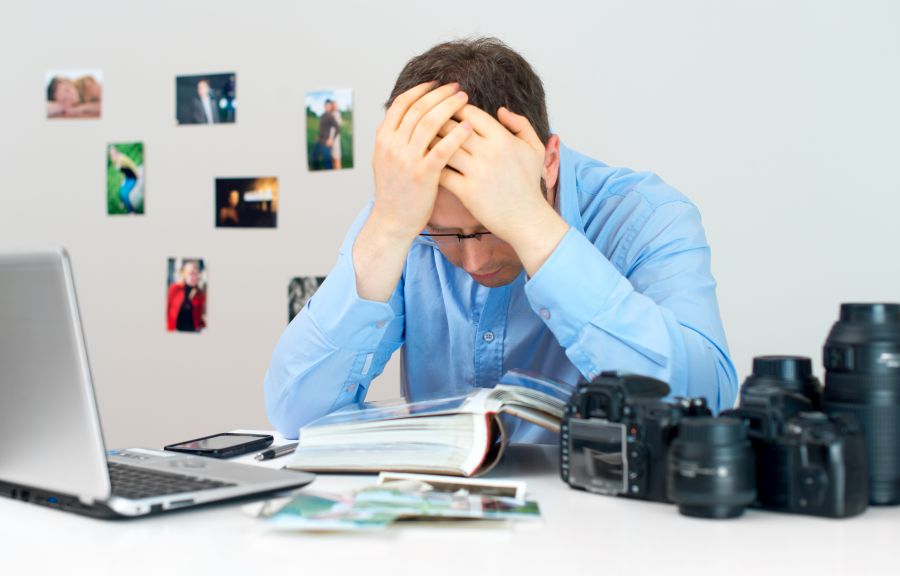 Many of my blog posts are inspired by what I see going on around me and/or comments from other photographers. That's exactly how this post came about.
I know about 15+ photographers in the Raleigh area. Some of them seem to be doing very well and others seem to be struggling or working so hard at staying busy that they are missing the big picture of making a living without being overworked doing it. Staying busy and not making money doing it is not sustainable long term. It will all come tumbling down eventually.
I'm very fortunate that I can make a full time living doing what I love to do. I am forever grateful for that and don't take it for granite. I know nothing is guaranteed for tomorrow. I also work very hard to keep things going. However, I am making a living doing what I love and my wife, Brenda, is also in the business full time with me. But there is no magic wand to keep it going. Being a full time photographer take s lot of work and determination.
By the way, don't think I haven't paid my dues by doing things like staying in low cost motels and surviving on fast food. In addition, doing the best I could with the gear that I could afford which was often not a very much on the budget scale. That's a similar path that many photographers go down who choose to be self employed rather than work for someone. And there is a better way.
Find A Mentor
If you want to be a full time photographer, find a mentor that you know, like and trust. But don't waste your mentors time. Time is the most valuable thing that any of us have, so be strategic about the time you spend with a mentor. Ask strategic, well thought out questions not just random fire question, after question, after question and on top of that not even taking notes.
I still remember assisting the first photographer that I ever worked with over 30 years ago. There were a lot of valuable things that I picked up on just by assisting and watching him work. The things that I learned still stick with me today. Just this week, I was doing a shoot and remembered the photographer from over 30 years ago doing something similar. That's likely where I got the idea from.
Making Money
Profit is not a dirty word. It's the only way any business will stay in business long term. If you are burning the candle at both ends and staying busy without making a profit, you do not have a sustainable business model. Bottom line, change what you are doing. Busy does not equal making money.
Pricing is one of the areas that most photographers I talk to, that are not firmly established, struggle with. If you want to make a living as a photographer, you have to price with all of the following in mind: paying bills with your income, putting food on the table, taxes and insurance and oh, the thing that all photographers love: NEW GEAR.
Some of the things that I hear on a regular basis from photographers that are not established are things like:
1) People cannot afford to pay more than I'm charging.
2) I'm scared if I charge more that I will lose business.
3) I just want to help people out. That's why I don't charge very much.
These types of comments often come from photographers charging minimal money for their services.
Here's my revised version with what I think in ALL CAPS:
1) People cannot afford to pay more than I'm charging.
YOU ARE TARGETING THE WRONG MARKET. HINT: CHANGE YOUR TARGET MARKET
2) I'm scared if I charge more that I will lose business.
YOU COULD BE LOSING BUSINESS BY CHARGING TOO LITTLE. HINT: NOT EVERYONE WANTS THE LOWEST PRICE IN TOWN. YOUR TIME IS VALUABLE AND QUALITY IS OFTEN ASSOCIATED WITH PRICE.
*3) I just want to help people out. That's why I don't charge very much.
LET SOMEONE ELSE HELP PEOPLE BECAUSE THERE IS ALWAYS SOMEONE WHO WILL SHOOT FOR FREE TO BUILD THEIR PORTFOLIO.
*For #3, don't get me wrong. Help those from time to time that really need it. There is nothing wrong with helping people. Do some charity work. Give Back! But as a sustainable business model, you have to charge enough and also have enough volume of business coming in to make a full time living as a photographer.
The following two tabs change content below.
Short Bio About The Author:
I'm David Williams a professional commercial photographer focusing on corporate and business clients with some personal branding, lifestyle photography in the mix. My love for photography began in late 1981 while still in High School. I started making money with his camera in 1982. Brenda, my wife, and I started working together in photography in 1988 shortly after we met. Brenda and I married in 1989 and have two adult daughters. Please be sure to
get a quote for services
if needed. Call or Text:
919.723.8453
. Please reach out to connect with me on
LinkedIn.
Latest posts by David Williams (see all)