I shot the image below with a Canon 5D Mark III in Manual mode using a 70-200mm f/2.8 lens set at 200mm, 100ISO, 1/500th and f/3.5. I am going to share all my mistakes below the image.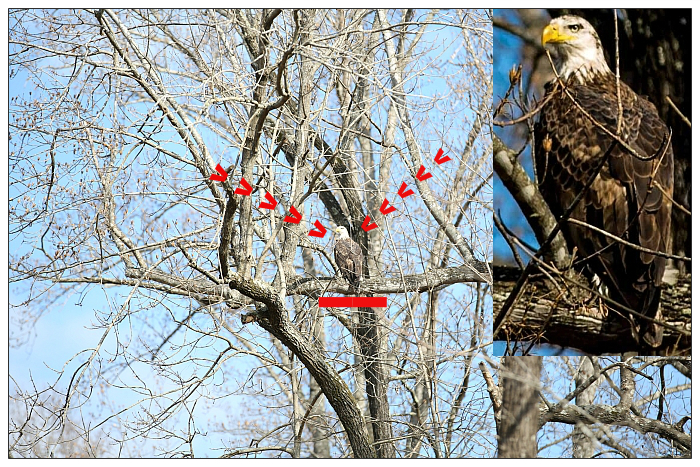 I am a professional people photographer who photographs people in controlled settings both inside and out. In other words, I shoot in manual and control the lighting both inside and out to make it work for the set up that I am using with strobes, reflectors, etc. Photographing an eagle in nature on manual was not a good decision.  In addition, I had my camera set in two other classic people modes that I use which were not good either.
Mistake #1 - Shooting in Manual Mode
I should have set my camera to aperture priority mode or shutter priority mode. However, I would have chosen aperture priority mode over shutter because the shutter speed would have been fine if my ISO and f/stop were in line.
I had my camera in manual, grabbed it and started shooting. My image was overexposed; however, there were other issues as well like Mistake #2 and Mistake #3 which are two other settings that are usually fine with my people photography but not so good with a flying eagle.  Yep, the eagle took flight and I was not ready.
I like shooting with the 70-200mm at f/5.6 at this distance. I was at f/3.5 which was not the biggest problem that I was up against. I would like to have been at a faster shutter speed than 1/500th for the flight that took place but at 100ISO stopping down to f/5.6 would have lowered my shutter speed. However, that would have gotten the exposure more in line. I could have gained two f/stops by shooting at 400 ISO and three f/stops at 800. So if I had it to do all over, I would be in aperture priority mode at f/5.6 at no less than 400ISO and maybe even 800ISO (to some that may sound odd for outside).
Mistake #2 - Shooting in the WRONG Auto Focus Mode
I should have been on Continuous AI SERVO mode. That is the best mode for moving subjects and action. The Canon 5D Mark III has 3 focusing modes: One Shot, AI Focus and AI Servo. I tend to stay on AI Focus which is supposed to select the right focusing mode even for action; however, I have found that when trying to photograph action that AI SERVO is best: The camera is constantly focusing.
The eagle took flight and I ended up with ZERO usable images most of which were OUT OF FOCUS. I had a FANTASTIC one with a beautiful full wing span at an angle but between manual settings and the wrong focus mode, I cannot show it to you here. In addition, Mistake #3 factored in when the eagle took flight.
Mistake #3 - Shooting in Single Frame Mode
If you read Mistake #2 before reading this, you know that the eagle took flight and I was in the wrong focus mode. Well, I was also in single frame mode but at least I was on silent rather than the shutter being noisy. The Canon 5D Mark III will shoot 6 frames per second. There are other less expensive cameras that will do more frames per second, but the 5D Mark III is a full frame pro camera. I'll take less frames per second for the trade off.
I should have been in continuous frame mode which with the continuous auto focus that I should also have been in would have helped when when the eagle took flight. That was an AWESOME full spread shot but between Mistake #1, #2 and #3 all combined, I cannot post the shot here: Too Bad!!!
FYI, I do offer photography workshops in the Raleigh area and one-to-one training.  I don't offer training on how to photograph eagle's in flight.  I am still working on that one.
If you enjoyed this post, please use the social icons below to share:
The following two tabs change content below.
Short Bio About The Author:
I'm David Williams a professional commercial photographer focusing on corporate and business clients with some personal branding, lifestyle photography in the mix. My love for photography began in late 1981 while still in High School. I started making money with his camera in 1982. Brenda, my wife, and I started working together in photography in 1988 shortly after we met. Brenda and I married in 1989 and have two adult daughters. Please be sure to
get a quote for services
if needed. Call or Text:
919.723.8453
. Please reach out to connect with me on
LinkedIn.
Latest posts by David Williams (see all)