FULL SERVICE VIDEO PRODUCTION COMPANY
GET SOCIAL
Need a short creative video for social platforms? We can help with that!
We can film specifically for that need or edit an additional video from the footage captured from your initial project.

Company Production Teaser
FULL SERVICE - CAPTURE ONLY - EDIT ONLY
RTP Photo and Video, Inc. is a corporate video production company located in Raleigh NC focusing exclusively on video for business use. We film anything from corporate conferences, business promotional videos or simple talking heads for businesses. We love and are familiar with working directly with corporate clients and agencies. We are not limited to the Raleigh NC area. We do travel and have shot videos in several different states.
We provide both single or multi-camera video production services. We are a production company that can provide a crew larger than a team of two if necessary. However, if you are in need of just one professional videographer with a camera on a tripod, we can provide that as well. Our company offers scalable video production services because we know that not every video project will have the same project scope.
As a corporate video production company, we understand video services in the business world. Our portfolio above is by no means our full portfolio. We have done internal training videos and many other types of videos that we were hired to film in the Raleigh area which has been edited in Germany and the UK!
Not all video production companies are exclusive to corporate and business video production, but for us, it's what we know and love. We do not film weddings or other consumer videos.
Whether you are looking for a full service production which includes shooting and editing, or you are simply looking for a video team to capture the footage because you have the editing resources already in place, RTP Photo and Video can provide the videography services that you need to get you covered.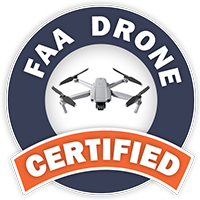 FAA DRONE CERTIFIED
In addition to offering ground level services, we also offer drone video and photography. Drone footage is great and adds a nice touch; however, drone footage is not needed for every project. We have an FAA Drone Certified professional (FAA 107).
When drone work is part of an overall full service video production or part of a capture only project, our drone rates are very competitive in the local market as part of a video package.
&nbsp