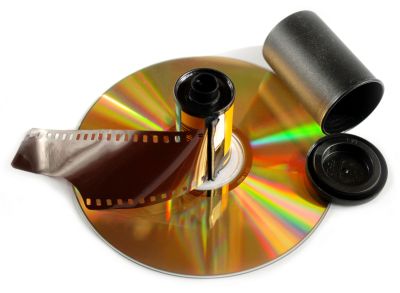 OK, it's not the film days anymore. Back then, there were far less wannabee photographers partially because the person behind the camera actually needed to know more about using a camera than today's digital age of GREEN means GO.
Even if as a photographer back in the film days, the chances of handing over a roll of film to a client that you just shot for would likely be slim to none: So why do so many photographers in today's digital age that are just starting out love to burn images to a CD?
There are likely two core reasons new photographers love burning images to a CD in the modern age of digital photography: 1) Everyone else is doing it (or so they think) 2) It's easy to drag and drop, get the $99 and move on. But at the end of the day, it's likely hurting the newbies business, their brand identity and the photography industry in general or is it?
Believe it or not, there are many clients today who still get the value of a photographer offering more than just burning a bunch of images to a CD. But like anything, there will always be the market look for someone to burn the images to a CD for minimal money. As a new photographer, do you really want to be a churn and burn photographer or someone who actually provides the best possible final images possible?
When pondering on everything above, why not consider a per image pricing model based on a final image that has been retouched before giving it to the client. Even this is a sore spot with many photographers because in the consumer world, many photographers still focus on selling prints instead of giving images. In the commercial world that I work in, most agencies and companies are seeking digital files that will likely be used in print media and/or online. At least with a per image pricing model, the photographer has an opportunity to deliver retouched images which most likely will be far better than shoot and burn.
There are numerous advantages to the photographer and the end client with a per image pricing model:
1) The photographer provides a polished end product that will truly show that he or she cares about delivering the best possible images. The client wins as well because the client receives a higher quality product.
2) The photographer has an opportunity for add on image sales from the client. This may raise the question of how the client wins if the photographer makes more money. Just like in #1 above, the client gets the best possible product the photographer is capable of delivering.
3) The photographer does a great job working with the client, getting great images for the client to review, charging a fair market rate to the client and delivering optimal images to the client. In this case, everyone wins.
Photographers: Don't be so fast to burn images to a CD:
1) Take pride in your photography.
2) Create a package of __ number of final images that are retouched for __ dollars as your base offering. It may start with just one final image for headshot sessions.
3) Create a per image price beyond the initial offering that includes retouching.
Yes, there are still clients that appreciate optimal quality and have ZERO problem with the model above.
If you enjoyed this post, please feel free to SHARE IT using the social icons below.
The following two tabs change content below.
Short Bio About The Author:
I'm David Williams a professional commercial photographer focusing on corporate and business clients with some personal branding, lifestyle photography in the mix. My love for photography began in late 1981 while still in High School. I started making money with his camera in 1982. Brenda, my wife, and I started working together in photography in 1988 shortly after we met. Brenda and I married in 1989 and have two adult daughters. Please be sure to
get a quote for services
if needed. Call or Text:
919.723.8453
. Please reach out to connect with me on
LinkedIn.
Latest posts by David Williams (see all)