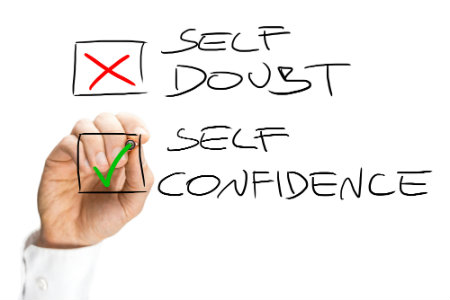 It's easy as a photographer to have self doubt especially when comparing your work and rates to other photographers who appear to be very succesful. However, self confidence comes from self motivation. That's right! You have to kick yourself in the butt and hold your head high because self confidence will get you further than self doubt will.
Don't get me wrong. If your photography is horrible, self confidence will only go so far. But if your photography is average (not spectacular), self confidence will propel you to new heights in your photography business. As long as your photography is good enough to get regular positive feedback from REAL PAYING clients not friends and family trying to make you feel good, then you can continue to grow your photography business through confidence that you can get the job done.
Don't compare yourself to other photographers to the point that self doubt takes over your photography business. Yes, you should improve your work. Yes, you should find other photographers that inspire you. But anything that causes you to want to give up and start doubting your abilities needs to be accessed and decisions made on whether it is truly the path you need to continue down. Bottom line, get rid of self doubt and replace it with self confidence.
Stop Wasting Time
If you find a photographer that inspires you that you soon find out is a pompous windbag, don't let self doubt creep in. Just look for another photographer that inspires you and maybe even mentors you that is not a pompous windbag. Yes, tough love can make a difference but if tough love is causing more self doubt than help and/or completely wasting your time, you need to move on. Think Self Confidence!
4 Quick Ways To Become More Self Confident With Your Photography
1) The first way is to simply choose to be self confident and don't accept self doubt as part of your mindset. You have the choice to decide if you want to be confident or not.
2) Use the good client experiences to motivate you and remind yourself of all the times you've had great feedback from paying clients. Learn from the ones that may have not been as happy as others but don't let self doubt creep in.
3) Find a coach or mentor that will be honest with you but not to the point that their possible negative feedback causes lots of self doubt. You want someone who will challenge you but also help you build your self confidence.
4) Constantly make tweaks to improve your photography which will likely build self confidence. How is your photography compared to where it was 6 months, 1 year or even 2+ years ago? How will it be 1 year from now?
The following two tabs change content below.
Short Bio About The Author:
I'm David Williams a professional commercial photographer focusing on corporate and business clients with some personal branding, lifestyle photography in the mix. My love for photography began in late 1981 while still in High School. I started making money with his camera in 1982. Brenda, my wife, and I started working together in photography in 1988 shortly after we met. Brenda and I married in 1989 and have two adult daughters. Please be sure to
get a quote for services
if needed. Call or Text:
919.723.8453
. Please reach out to connect with me on
LinkedIn.
Latest posts by David Williams (see all)