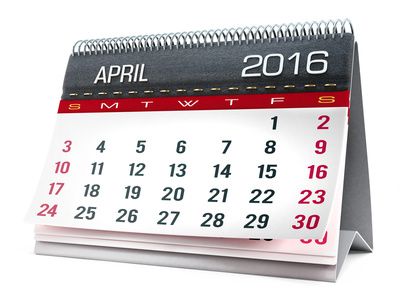 We've all heard those that fail to plan - plan to fail. We'll it's a new month and a new quarter. How's your planning going?
April 2016 has 5 Friday's in it and 5 Saturday's. You will not see that in every month. Will you be taking more breaks in April with so many Friday's and Saturday's in the mix or working harder to achieve your goals?
It can be overwhelming to think and plan for the rest of 2016 and start thinking about 2017 this early; however, chunking is one method of making things easier. If you focus on the month of April and the 2nd quarter of 2016 which includes April, May and June, you may find it easier to get focused on the next 30-60-90 days.
Ideally, 2nd quarter planning should have started before the quarter began, but don't let that hold you back. It's not too late to plan what April, May and June will hold for you. Write your plans down and put your plan into action. Get focused now on 2nd quarter 2106.
The following two tabs change content below.
Short Bio About The Author:
I'm David Williams a professional commercial photographer focusing on corporate and business clients with some personal branding, lifestyle photography in the mix. My love for photography began in late 1981 while still in High School. I started making money with his camera in 1982. Brenda, my wife, and I started working together in photography in 1988 shortly after we met. Brenda and I married in 1989 and have two adult daughters. Please be sure to
get a quote for services
if needed. Call or Text:
919.723.8453
. Please reach out to connect with me on
LinkedIn.
Latest posts by David Williams (see all)