Before I dive in, you may think the lighting setup above (stock photo) would cost you thousands of dollars. Although it could with a brand like Profoto which I love, it is possible to get 4 good light stands, 4 strobe heads, 4 triggers (to fire the strobes) and 4 modifiers (soft boxes and strip boxes pictured) for as little as $1,000. If you cannot invest in $1,000 worth of lighting, you should re-think your business. It's a $1,000 investment that can pay for itself numerous times over.
FYI, I'll add some gear information at the end of this post.
Now, Let's Dive In!
In case you haven't noticed, the photography market is cluttered with photographers. Many of the photographers in the market do not understand lighting. If you want to rise above the clutter, you should invest in lighting gear and try new things with lighting.
Other than price (not a good way to compete), what makes your photography any different than the clutter in the market? Don't be afraid of lighting. It will likely be the #1 thing that can take you to the next level, generate more revenue for your business and separate you from the clutter.
It's true that Lightroom and Photoshop also make a difference in the end result of your photography, but at the end of the day, if you DO NOT understand lighting and are calling yourself a professional photographer because you make money doing photography, you WILL hinder your growth as a pro.
Maybe you are using lights and you are getting plenty of business with one light to your left and one light to your right. That two light simple setup is super easy to do which means it's super easy for everyone else. Why not get beyond the basics?
Do you know how to use a kicker light? a hairlight? Do you know what a grid can do? a snoot? Do you know the difference in using a beauty dish and a strip box? You should learn how to use different modifiers. Try new things with light. Never stop learning how light can make a difference in your photography.
I'll admit that as a full time professional with lots of lighting gear and modifiers that it's easy to get lazy with light. But I will also admit that when I try new things with light, it gets me excited and I can see a difference in my work.
The shot below was taken in a very bright room, but I made it look much different with strobe lighting. The background is actually a red wall. The guitar was lit with a snoot with a grid. The main subject was lit with a 24 inch Octabox that was very close to his face which created a nice soft light.
I did this setup on the fly and love how it came out. Again, try new things with light. It can make a difference. Don't let light be your enemy. Light will get you to the next level.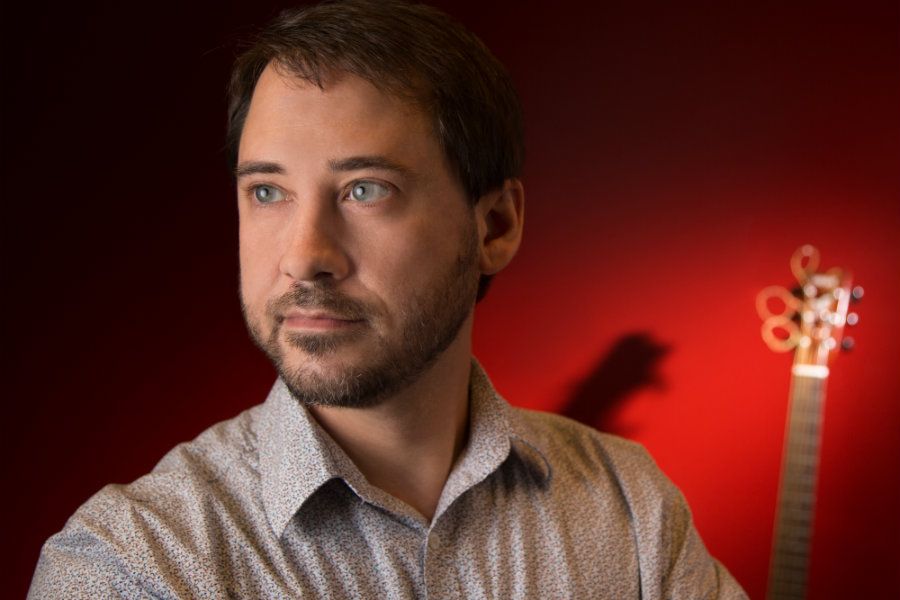 Low Cost Gear List To Get You Going For About $1,000
Stands: Giottos LC325 - $50 Each x 4 = $200 - Hard To Beat For The Money
Strobes: Neewer DS 300 - $110 Each x 4 = $440 - Hard To Beat For The Money
Triggers: Yongnuo 603 Triggers - $33 Per 2 x 3 = $99 - Research Others If You'd Like
(You'll have to have some kind of trigger to fire your strobe lights.)
Modifiers: 60" Photoflex - $40 Each x 2 = $80 - Amazing Light Shaping For The Money
Modifiers: On the strip boxes ($200 for two), I'm going to let you do some research. You can search both Amazon and Ebay for various strip boxes. I know that you can find TWO with Speedrings (will need to attach to light) for $200 or less with some digging.
The total above is just barely over $1,000. Yes, you can go even cheaper, but I don't recommend it. When compared to high end professional lighting, the setup above is a STEAL!
Can You Afford More?
If you can afford more, I would highly recommend that you look into Paul C. Buff lighting and modifiers. If you can afford even more beyond that, I suggest jumping into Profoto lighting and modifiers.
Next Steps!
No matter what you do with lighting, you should at least invest in one light, one stand, one set of triggers and one modifier (60 inch umbrella) to get you started. That's about a $250 investment. Even if money is super tight, that shouldn't break the bank and will likely help you generate more revenue.
Only buy what you can afford, but buy some kind of lighting to start toward getting to the next level.
The following two tabs change content below.
Short Bio About The Author:
I'm David Williams a professional commercial photographer focusing on corporate and business clients with some personal branding, lifestyle photography in the mix. My love for photography began in late 1981 while still in High School. I started making money with his camera in 1982. Brenda, my wife, and I started working together in photography in 1988 shortly after we met. Brenda and I married in 1989 and have two adult daughters. Please be sure to
get a quote for services
if needed. Call or Text:
919.723.8453
. Please reach out to connect with me on
LinkedIn.
Latest posts by David Williams (see all)