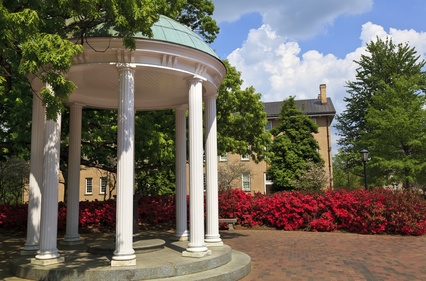 Today is Saturday, April 2nd and it's the day that our team is capturing lots of video footage for a recruitment video for a sorority at UNC Chapel Hill.
The plan is to capture some drone footage at the sorority house and then divide up into 3 video teams to capture footage around campus including Franklin Street. We'll be using traditional video cameras, DSLR cameras and even the tiny GoPro Session 4.
The interesting thing about videography is that you have to have an end vision while capturing numerous video clips that as stand along clips before editing are really not all that dynamic. However, once the video clips are pulled into post editing software, music is added, split screen techniques and more are all used together to create a final video, the video comes together to work for its intended purpose.
In a few days, John and I will be headed to Louisana to create a promotional video for an association. Promotional and recruitment style videos are just one area of video production that we focus on. All of our video work is focused around commercial use and not consumer use like weddings.
The following two tabs change content below.
Short Bio About The Author:
I'm David Williams a professional commercial photographer focusing on corporate and business clients with some personal branding, lifestyle photography in the mix. My love for photography began in late 1981 while still in High School. I started making money with his camera in 1982. Brenda, my wife, and I started working together in photography in 1988 shortly after we met. Brenda and I married in 1989 and have two adult daughters. Please be sure to
get a quote for services
if needed. Call or Text:
919.723.8453
. Please reach out to connect with me on
LinkedIn.
Latest posts by David Williams (see all)