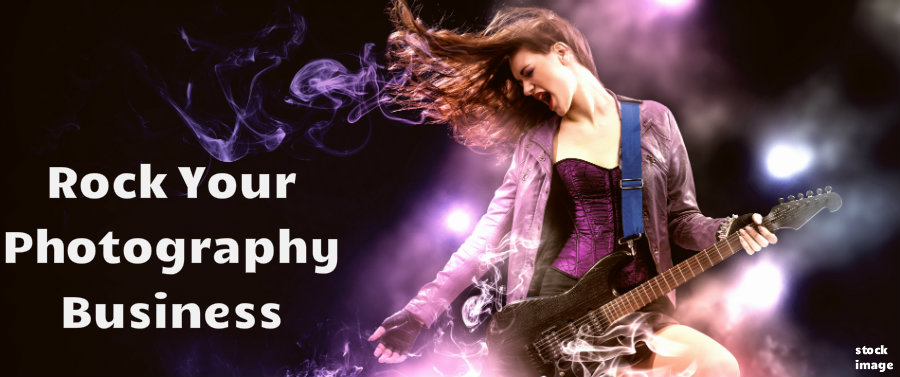 1) If you understand lighting
2) If your images are well edited
3) If you can sell your services
4) If you are willing to work hard
YOU WILL ROCK YOUR PHOTOGRAPHY BUSINESS.
Make no mistake, I'm not talking about overnight success or something that will come easy. How many successful Rock Bands did one gig, then hit it big? But with consistent long term hard work, understanding lighting, consistently providing well edited images and knowing how to sell (critical, critical, critical) what you do with confidence will get you beyond the blah, blah, blah of photography and those complaining about how bad it is.
Lighting...
You don't have to own expensive lights that you just think you have to have. You should, however, know lighting inside and out both ambient light (natural outdoors) and artificial light (strobe/speedlites). If you are wondering where to start, it's simple: YOUTUBE. Watch, Learn, Test It for Yourself, Repeat! Hint: Even if Profoto lights are not in your budget, they have some GREAT videos under 5 minutes that will give you lighting ideas https://www.youtube.com/user/ProfotoGlobal/videos.
Editing...
Ideally you should be using both Lightroom and Photoshop, but that really depends on your market and what you need to do as it relates to post production. For example, Lightroom may work just fine for volume real estate photography or lots of events (maybe not weddings). On the other hand, you'll likely want to get beyond Photoshop Elements as your primary source (if it is) unless you are really comfortable with it and it truly works for you. You can always outsource your editing but that costs extra money that you may not have in the early stages.
Selling...
No matter what business you are in, if you are a solopreneur (just you) and cannot SELL what you do with confidence, you will likely NOT (sorry) go very far. Learn as much as you can about sales, marketing and business. Although YOUTUBE is a great place to start, finding a MENTOR and/or attending some live training with real human beings not a computer is highly recommended.
Hard Work...
"The price of success is hard work, dedication to the job at hand, and the determination that whether we win or lose, we have applied the best of ourselves to the task at hand." Vince Lombardi
Becoming and sustaining a career as full time photographer will most likely take lots of  consistent hard work unless you get lucky, very lucky. Be prepared to D.W.I.T. (Do Whatever It Takes) within reason. Don't risk missing your kids growing up, ruin your marriage, etc. by implementing D.W.I.T., but do be willing to put some long hours in while finding a work life balance. To become full time and sustain a full time living is today's photography market, you will likely need to consistently invest 8 to 10 to even 12 hours per day over 5 or even 6 days a week. Trust me, it's not easy to do.
The short video below is not just about light. Take a moment to check it out.
The following two tabs change content below.
Short Bio About The Author:
I'm David Williams a professional commercial photographer focusing on corporate and business clients with some personal branding, lifestyle photography in the mix. My love for photography began in late 1981 while still in High School. I started making money with his camera in 1982. Brenda, my wife, and I started working together in photography in 1988 shortly after we met. Brenda and I married in 1989 and have two adult daughters. Please be sure to
get a quote for services
if needed. Call or Text:
919.723.8453
. Please reach out to connect with me on
LinkedIn.
Latest posts by David Williams (see all)