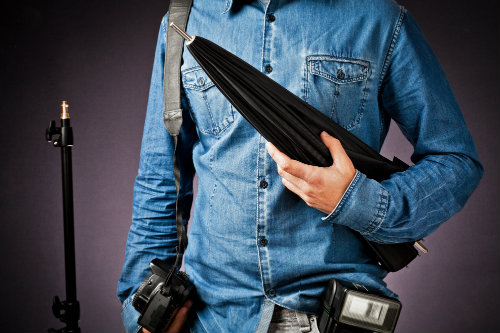 Being an assistant is not a bad gig provided that you like the photographer you are working with, are making the kind of money you'd like to make or at least see the light at the end of the financial tunnel and you love what you are doing because in photography it's not all about the money. Oh, if it is all about the money, you are probably in the wrong business.
Going out full time on your own may not be all it's cut out to be, so why not have the best of both worlds? Assist and do your own photography on the side!
If the photographer you are assisting is fine with you having your own business on the side (most will be), then why not work for yourself when you are not assisting. Many full time professionals started out as assistants who did their own photography on the side then decided to go out on their own at some point.
If you are happy working as an assistant (whether full time or part time) and working part time in your own business on the side, you may want to consider that path for the next several years. Again, it really depends on how happy you are playing the dual role.
Bottom line, don't feel that you are a failure because you cannot sustain a full time income working for yourself. It's not an easy task to be full time at anything on your own.
"Success is not the key to happiness. Happiness is the key to success. If you love what you are doing, you will be successful." Albert Schweitzer
Remember, you define your own success not those around you. If you are happy with what you are doing, then don't let others bother you with their own definition of their success.
The following two tabs change content below.
Short Bio About The Author:
I'm David Williams a professional commercial photographer focusing on corporate and business clients with some personal branding, lifestyle photography in the mix. My love for photography began in late 1981 while still in High School. I started making money with his camera in 1982. Brenda, my wife, and I started working together in photography in 1988 shortly after we met. Brenda and I married in 1989 and have two adult daughters. Please be sure to
get a quote for services
if needed. Call or Text:
919.723.8453
. Please reach out to connect with me on
LinkedIn.
Latest posts by David Williams (see all)