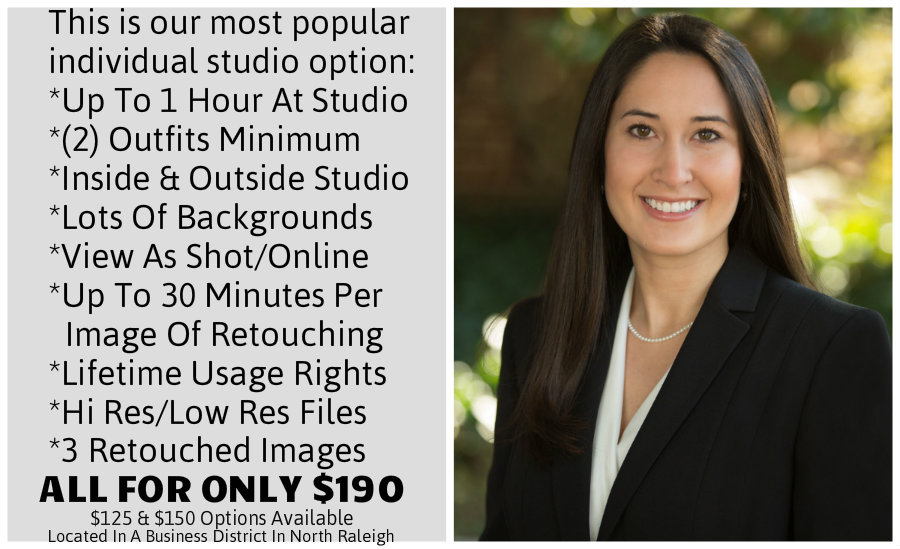 There was a time when I would not have put the price above like you see now and would have listed CALL FOR PRICING where you now see the ALL FOR ONLY $190. There are lots of things to consider about publishing or not publishing your headshot pricing.
In the end, it's completely up to you because there are always two ways to look at everything. Since I have done it both ways, I have formed what I consider to be best for my headshot business.
Note: Your pricing, no matter how good you are, will not be a fit for everyone in your market. Once you accept that, you can focus on other things besides selling purely based on price.
Published Pricing Advantages:
If someone contacts me from my website about a headshot session, they obviously like my portfolio enough to contact me and they have likely determined that the pricing is within their budget. That's two key things that make a difference in being able to schedule a headshot appointment with someone.
When the phone rings, the call goes something like this. Caller: "I found your website and I'm interested in a headshot." Me: "Have you seen my pricing?" Caller: "Yes!" Me: "Would you like to schedule an appointment?" Caller: "Yes!" For me, I had rather get 5 calls like this than 10 calls with 5 of them thinking my price is too high or it doesn't fit their budget. The 5 that I am not a fit for allows me to spend more time focusing on those who I am a fit for.
Published Pricing Disadvantages:
By publishing my prices, I may not be contacted even if the person viewing my website loves my work because they may make a pricing/budget decision purely based on my published pricing. If my price is my price and I am out of someone's budget range, I feel that it makes no difference to not publish the price and only have them be turned away when I quote them by phone or email.
Ah...but you may be thinking if I get them on the phone, I can sell them on my services. While I do agree that I prefer to speak with someone on the phone, I had rather speak to someone that already knows whether my headshot pricing fits their budge or not. If they are expecting a $50 +/- headshot like JcPenney offers (at the time of this post) and that's all they are willing to pay, my $125 to $190 (subject to change) is not going to work for them and I refuse to become a high pressured sales guy trying to convince them that their $50 budget just needs to be increased by $75 to $140.
Another disadvantage to published headshot pricing is that my competitors can see what I charge and come up with something to compete against me better based on my pricing and my offerings. While I do agree that is possible, there are numerous other ways that competitors can find out my prices even if they are not published. I prefer to make it easy for my potential clients to find headshot pricing. If a competitor sees my pricing, that is fine.
Your Decision:
I struggled for a long time about publishing my headshot prices which are just one piece of my business. However, in the end, the benefits of published headshot prices seem to outweigh not publishing headshot prices. Whether you publish headshot prices or not is completely up to you, it's your business. There is far more to a headshot than just a price.
The following two tabs change content below.
Short Bio About The Author:
I'm David Williams a professional commercial photographer focusing on corporate and business clients with some personal branding, lifestyle photography in the mix. My love for photography began in late 1981 while still in High School. I started making money with his camera in 1982. Brenda, my wife, and I started working together in photography in 1988 shortly after we met. Brenda and I married in 1989 and have two adult daughters. Please be sure to
get a quote for services
if needed. Call or Text:
919.723.8453
. Please reach out to connect with me on
LinkedIn.
Latest posts by David Williams (see all)