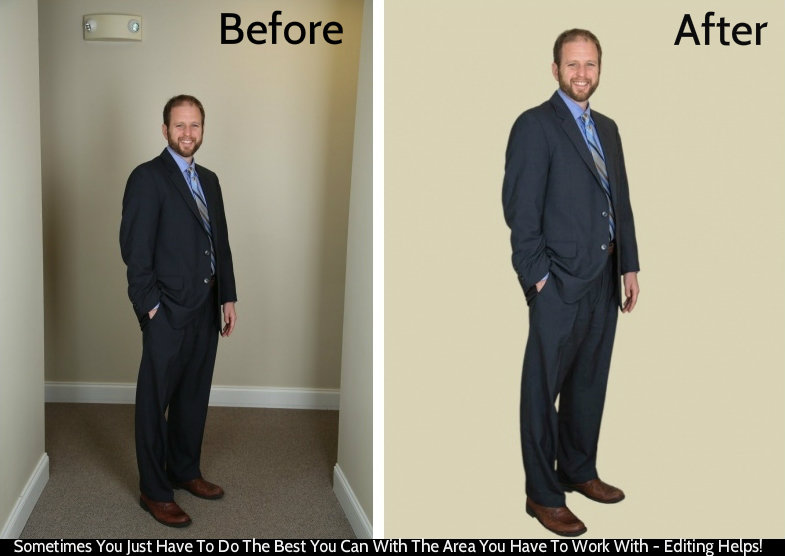 The attorney above needed a full length photo, but there wasn't enough space in the office to set up a typical 9ft. wide studio back drop with softboxes and studio strobes. So I got creative knowing that we could fix it all in post.
I used an Einstein strobe with a strip box for lighting. I have found that strip boxes work well for tight situations.
Rather than crop the before image so tight that there would not be room for the cutout, I left plenty of room for Brenda to work with. As you can see by the after image on the right, Brenda was able to successfully cutout the subject and create a nice full length photo.
If your personal editing skills are not where you want to be and you are still learning, you can always try a service like Retouch Up (not an affiliate link) that should be able to help you with some of the more challenging issues as well as basic editing. In my case, I love having my wife, Brenda, internally to do my editing as well as Lindsay when needed.
The following two tabs change content below.
Short Bio About The Author:
I'm David Williams a professional commercial photographer focusing on corporate and business clients with some personal branding, lifestyle photography in the mix. My love for photography began in late 1981 while still in High School. I started making money with his camera in 1982. Brenda, my wife, and I started working together in photography in 1988 shortly after we met. Brenda and I married in 1989 and have two adult daughters. Please be sure to
get a quote for services
if needed. Call or Text:
919.723.8453
. Please reach out to connect with me on
LinkedIn.
Latest posts by David Williams (see all)