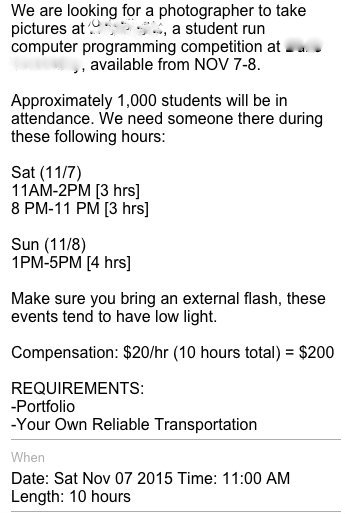 I don't mind putting it bluntly that this is one of the many DUMB requests that come through Thumbtack. Sadly, there are photographers that will quote on this and think they are making $20 an hour which will not sustain a full time business. Anyone wanting to make $20 an hour, should deliver pizza because it's not going to help very much in a photography business paying for gear, overhead and everyday living expenses. FYI, overhead doesn't have to be a studio. It can be transportation, cell phone, insurance and other business expenses.
Anyone working as a self-employed full time photographer cannot sustain a business at $20 an hour unless he or she wants to work for less then minimum wage after all the expenses are taken out: taxes, gear, insurance, transportation and other normal operating expenses.
Here's a look at the short version of being a full time self-employed photographer:
Even if it's just the photographer, it's hard to live off of $20 an hour if the photographer is trying to be self-employed and run a business. Think about it! There is the cost of living (mortgage/rent, food, utilities, transportation, insurance and more) unless the photographer is still living off mom and/or dad or other relatives/friends. Then, there is the gear that is needed to operate as a photographer not counting necessary business expenses like taxes, etc.
Any photographer that takes on a gig like this should be part-time, trying to build his/her portfolio or simply clueless about what he/she should charge (Hint: It's more than $20 an hour) for photography services. Does this client expect edited images or unedited images.
In closing, some direct words to YOU the reader:
If you are a photographer, don't take on 10 hours for $20 an hour unless you truly need the work to eat your next meal, really want to build your portfolio with the project or there is something else in it for you because it's sure not the money at $20 an hour. The $100 an hour events are no harder to work than the $20 an hour events. Guess what, sometimes the $20 an hour gigs will work you harder. STOP THE MADNESS! Let some other photographer do it because there is always another photographer who will.
If you are NOT a photographer, please don't put a request like this online without adding something like, "We are broke and cannot afford to pay more than $20 an hour. We are hoping their is a new photographer out there that would like to help us out while building his or her portfolio and making a little money at the same time."
The following two tabs change content below.
Short Bio About The Author:
I'm David Williams a professional commercial photographer focusing on corporate and business clients with some personal branding, lifestyle photography in the mix. My love for photography began in late 1981 while still in High School. I started making money with his camera in 1982. Brenda, my wife, and I started working together in photography in 1988 shortly after we met. Brenda and I married in 1989 and have two adult daughters. Please be sure to
get a quote for services
if needed. Call or Text:
919.723.8453
. Please reach out to connect with me on
LinkedIn.
Latest posts by David Williams (see all)