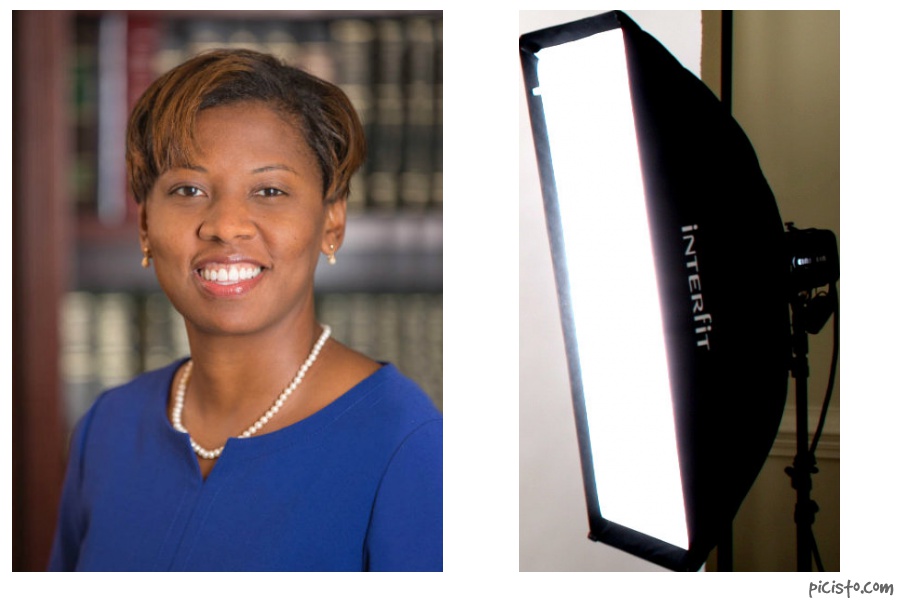 If you look at the eyes of the subject above, you will see one catch light on her left side which is on the right when looking at the image. That let's you know that there was one light source in front of her to my right and her left. But it's what you cannot figure out from this shot that makes using a strip box nice.
She was standing in a single doorway about 4 feet from the books behind her. To her left was another single doorway just after the "L" of where the walls joined. That doorway to her left was where I had the stipbox placed. It was a tight fit, but I didn't have much of a choice to pull of the shot that I wanted. This instance is not the only time a strip box or boxes have come in very handy.
In addition, I also had a strobe with a 43 inch umbrella on it inside the room where the books were to add some light to the background. It also helped fill some of the right side of her face.
I chose to shoot this at f/3.2 with a f/2.8 70-200mm Canon "L" lens. That gives you an idea of how blurred the background will be when it's about 4 feet from the subject. I was also almost at 200mm on the focal length.
Take, or maybe I should say make, the time to test your f/stop settings on your lens and how the focal length plays into the mix.
If you enjoyed this post, please SHARE it using the social icons below...
The following two tabs change content below.
Short Bio About The Author:
I'm David Williams a professional commercial photographer focusing on corporate and business clients with some personal branding, lifestyle photography in the mix. My love for photography began in late 1981 while still in High School. I started making money with his camera in 1982. Brenda, my wife, and I started working together in photography in 1988 shortly after we met. Brenda and I married in 1989 and have two adult daughters. Please be sure to
get a quote for services
if needed. Call or Text:
919.723.8453
. Please reach out to connect with me on
LinkedIn.
Latest posts by David Williams (see all)