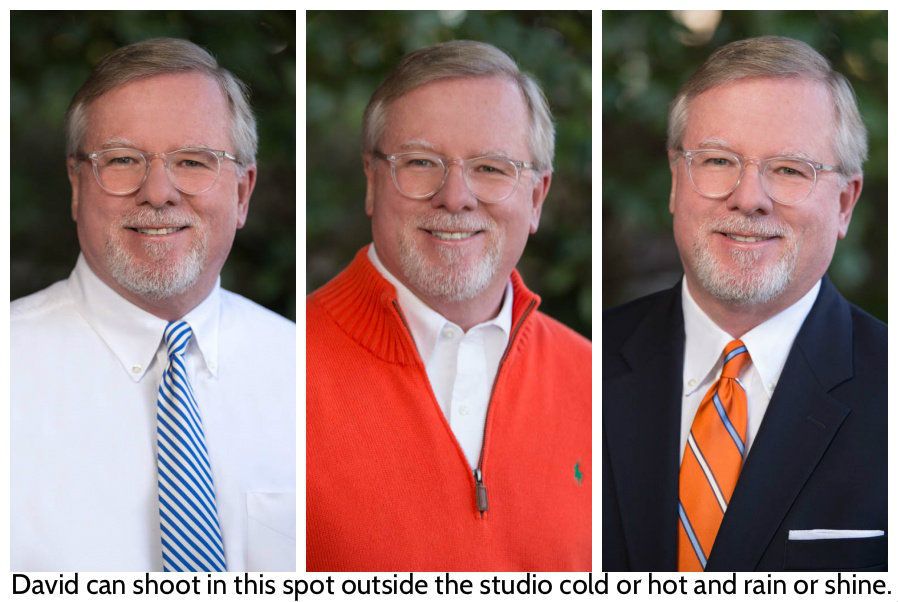 Traditional - Creative
Let me set the record straight. I do a lot of headshots (several hundred to 1,000+ in 2015) and I do plenty of creative headshots, but contrary to what others might think, not everyone wants, needs nor cares about a more creative, artsy type headshot.
What's Important?
The traditional style, classic headshot that I started doing in the 1980's which was around long before then has stood the test of time. If you are a photographer, don't get caught up in the argument of what is boring and what is creative. It's more important that 1) That there is a demand for your style. 2) That you don't overlook the classic, traditional style headshot. 3) You stay busy doing what you love. At the end of the day, if you are not busy doing headshots, you need to re-evaluate why.
Outdoor Headshots Taken In North Raleigh
The sample headshots at the top of this post were taken outside our North Raleigh studio. They are classic, traditional style headshots that can be taken in hot or cold weather and when it's raining or shining outside based on the location that I shot them in. If you consider them boring, that's completely up to you, but here is what you don't know. The businessman drove 75 miles one way to have me take his headshots. He was very happy and said that his business partner would be contacting us as well. At the end of the day, that is more important to me than any opinion about whether the headshots above are boring or not.
It's Hard For Quality To Be Boring
Whether a headshot is consider traditional or more artsy creative, at the end of the day, it's hard for quality to be boring. If an image is well lit, well photographed and well retouched, the quality of the final image will far outweigh a poorly shot image. It's also hard to make a client happy with poor quality. Don't get caught up on what others define as boring or what someone else defines as creative. Focus on quality and make sure there is a market for your style.
The following two tabs change content below.
Short Bio About The Author:
I'm David Williams a professional commercial photographer focusing on corporate and business clients with some personal branding, lifestyle photography in the mix. My love for photography began in late 1981 while still in High School. I started making money with his camera in 1982. Brenda, my wife, and I started working together in photography in 1988 shortly after we met. Brenda and I married in 1989 and have two adult daughters. Please be sure to
get a quote for services
if needed. Call or Text:
919.723.8453
. Please reach out to connect with me on
LinkedIn.
Latest posts by David Williams (see all)