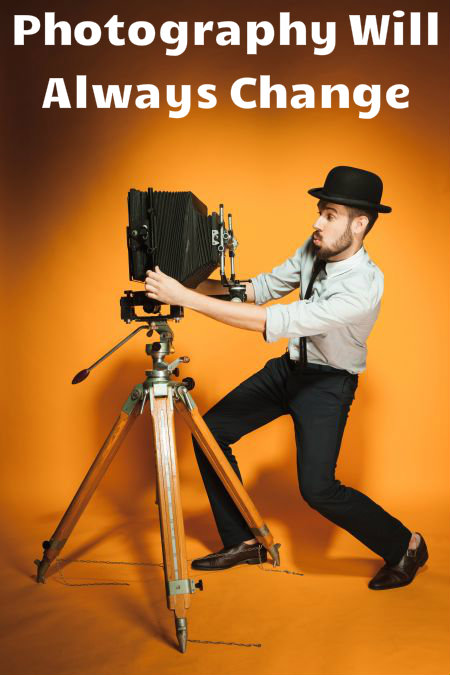 Photography is like any other industry: It is forever changing. So if you want to make it in photography, you have to adapt to the changes or find another career.
There are still photographers doing well in the industry, but one thing that I have noticed is their ability to be a step ahead and/or market their services well.
It's true that the digital age of photography has drastically changed the industry. Digital has not only created an overflow of wannabee's, but it has also put more power into the hands of the consumer. Between phones and digital cameras, today's photographers have their work cut of for them. However, that does not mean that photography is dying for those who want to pursue it as a career.
Below are several things that you can dive into, think about and take action on to not be a dying photographer but a thriving one:
Why Am I Or Why Do I Want To Be A Photographer?
You are most likely pursuing photography or even working in photography full time because you have a passion for it. If your number one reason is to become rich, you've probably chosen the wrong field. Don't get me wrong. There is money to be made in photography and there are lots of photographers doing well in the digital age. However, you have to treat photography like a business if you want to make a living doing it.
So determine your WHY and don't let things get in the way of achieving the things you want to do with your photography career.
Understanding Light:
This is the biggest weakness of wannabee's. One of the most important areas of photography is the ability to use light effectively. So many new photographers are "natural light photographers" which in many cases is an alternative way of saying "I don't have a clue about how to use light in my photography." Yes, natural light can be used very creatively, but it will NOT work in every situation. To be able to thrive in photography, a photographer must understand how to use light. If you are weak in this area, use YouTube to learn for free, buy some paid training, assist another photographer, read a book and most of all test, test, test to get better with using light.
The Internet:
Being active on social media and having a website are a must for any photographer working in the digital age. There are some photographers that use sites like SmugMug.com, Flickr.com and 500PX.com to display their work rather than a having a traditional website. The key is to have somewhere online that potential clients can go to view your work. Thanks to social media, photographers can interact with others and post what they are up to on a regular basis. It's a great way to build a photography brand. Maximizing online strategies is a key way to thrive in the digital age of photography. No, it's not easy, but it has to be in your marketing mix.
Willing To Adapt:
The good old days are gone. The way it used to be cannot be all you talk about as a photographer in the digital age. Are you willing to adapt to the present and willing to change in the future? Don't get stuck in the way it used to be. Pricing has changed. Competition has changed. Marketing has changed. And for those working in the current state of photography that don't have the old days to reminisce about.  Guess what? This moment will one day be the old days. So be willing to adapt as the future of photography continues to evolve.
Specializing:
Don't be a jack of all trades and do 101 different genres of photography. There is NO WAY and I mean NO WAY to be a master of every segment of photography. You should really focus on what you love. For example, if you love weddings, you should strive to be one of the best in your target market because being so-so and lost in the pack of the countless wedding photographers out there will not help you thrive long term. I personally know a lot of photographers and most do try to work in one market segment, but I do personally know and know of other photographers that run the gamut. They try to do from A to Z. You know what? A corporate event client don't care if you can photograph weddings and a wedding client don't care if you can photograph corporate events, so if you want to do both, you should really have two different websites (that's a big secret-don't tell anyone about it).
Understanding Business And Marketing:
If you want to fall flat on your face as a photographer, then simply not treat it as a money making business and ignore marketing completely. Anyone getting a degree in photography, should have to at least minor in business and marketing. As a matter of fact, I lean toward getting the degree in business and marketing and minoring in photography. Yes, there are things to be learned from a degree in photography; however, photography can be learned by using online training, assisting a professional and lots and lots and lots of testing on your own. As long as a photographer doesn't have absolutely terrible images, the business and marketing side is where he or she will likely fail more than the photography itself.
Here are 3 core things to do right now related to Photography, Marketing and Business:
1) Build the best portfolio you can based on your current gear and skill set.
2) Use marketing techniques to get your work in front of prospects.
3) Understand business enough to know how to get paid and continue making money.
Yes, the 3 things sound simple, but will require a lot of work to help you get to the next level. Oh, and the 3 things are NEVER ENDING. You should always be improving these 3 areas of your business.
Happy Thriving! It can be done!
The following two tabs change content below.
Short Bio About The Author:
I'm David Williams a professional commercial photographer focusing on corporate and business clients with some personal branding, lifestyle photography in the mix. My love for photography began in late 1981 while still in High School. I started making money with his camera in 1982. Brenda, my wife, and I started working together in photography in 1988 shortly after we met. Brenda and I married in 1989 and have two adult daughters. Please be sure to
get a quote for services
if needed. Call or Text:
919.723.8453
. Please reach out to connect with me on
LinkedIn.
Latest posts by David Williams (see all)