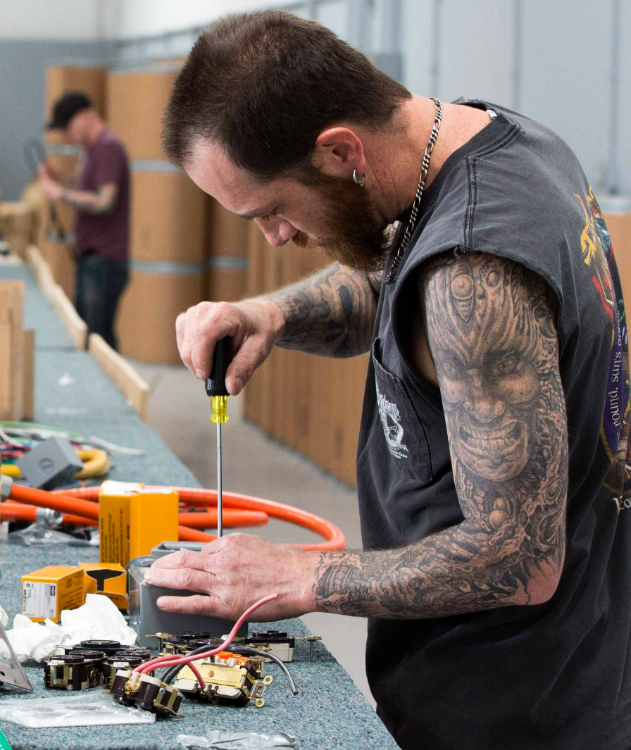 It's not that the image to the left is something amazing because there are likely a lot of things you could probably point out that you don't like about it. However, this brief post is about TOYING WITH LIGHT not 10 things that's wrong with this image.
Here's the story behind this shot that will hopefully encourage you to try something different with your lighting:
About 50 feet away from the subject, I had 53 inch white seamless set up with 3 softboxes pointing to the seamless.  1 of the 3 softboxes was boomed in on a C-stand. All the light was focused on the seamless background which was set up for some simple product shots.
So while I was waiting, this guy was putting some cords together and I thought...hmmm... why not take a shot with the lights 50 feet away in this high ceiling, 20,000 sq. ft. warehouse and see what happens?  Well, I was quite surprised when I balanced the strobes to the light in the warehouse.  I just love the way the lighting filled this area from so far away.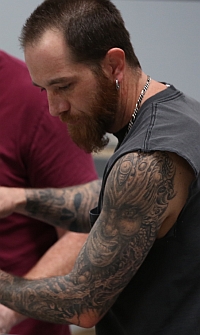 The smaller image on the right was shot in the same general area without the strobe lights on and it just doesn't have the POP of the image to the upper left.   Looking at the image on the left and the one on the right far larger than you see here, there is a noticeable difference in image quality because of all the fill light vs. only using NATURAL warehouse lighting.
So the next time you think about shooting with NATURAL light or just popping the shot off with on camera flash, you should consider lighting the scene up with some BIG light instead.   Notice how the guy in the distance is well lit also in the image to the upper left.
I hope this post inspires you to step outside of your comfort zone and try something different with your lighting.
The following two tabs change content below.
Short Bio About The Author:
I'm David Williams a professional commercial photographer focusing on corporate and business clients with some personal branding, lifestyle photography in the mix. My love for photography began in late 1981 while still in High School. I started making money with his camera in 1982. Brenda, my wife, and I started working together in photography in 1988 shortly after we met. Brenda and I married in 1989 and have two adult daughters. Please be sure to
get a quote for services
if needed. Call or Text:
919.723.8453
. Please reach out to connect with me on
LinkedIn.
Latest posts by David Williams (see all)