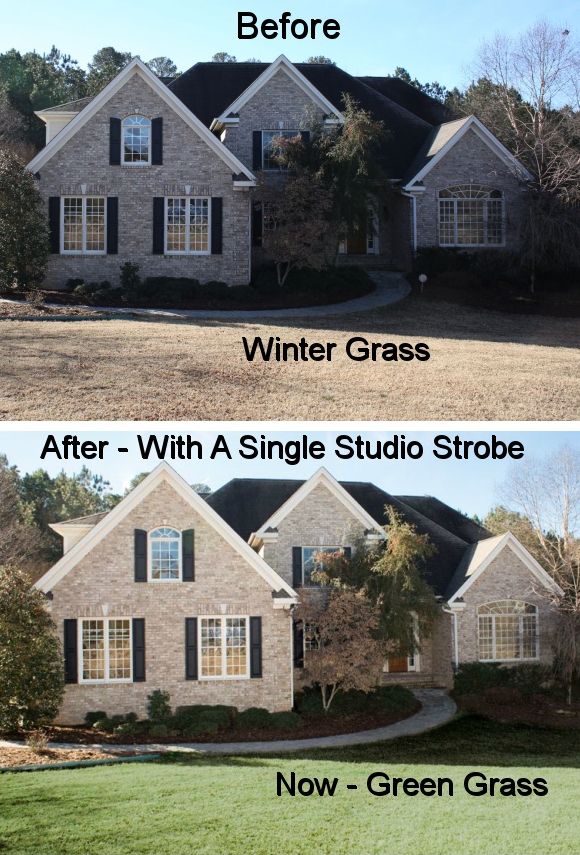 The image above shows the before and after results of a home that I recently shot. The before was "Natural Light" and due to the time of day, the house was in the shade. The sun was just off to my left.
I decided to break out my 640WS Paul C. Buff Einstein and put the 7 inch reflector on the head. In addition, I had the Vagabond Mini portable power pack with me to power the Einstein. I had my assistant stand off to my left and I triggered the Einstein with a Pocket Wizard. The Einstein was set to Full Power which is 640WS. Since my assistant was holding the Einstein, she could move back and forth and around to help get the results that I was after.
In addition, as you can see from the before and after, the grass was brown and it's green in the after. The image was taken in the Winter time in Raleigh, North Carolina, so brown grass is typical. In post production editing, the grass was made green in photoshop.
I am a big fan of strobe and speedlite photography both inside and outside. That doesn't mean that I never shoot with available light because there are appropriate times to use the "Natural Light." One thing that I don't do is say that I am a "Natural Light Photographer" because I am scared of strobes or speedlites. If you are not using strobes or speedlites in your photography on a regular basis, you should start trying it out to see what you think of the results. Like anything, it will require some testing if you are not use to shooting with strobes or speedlites.
If you enjoyed this post, please use the social icons below to SHARE.
The following two tabs change content below.
Short Bio About The Author:
I'm David Williams a professional commercial photographer focusing on corporate and business clients with some personal branding, lifestyle photography in the mix. My love for photography began in late 1981 while still in High School. I started making money with his camera in 1982. Brenda, my wife, and I started working together in photography in 1988 shortly after we met. Brenda and I married in 1989 and have two adult daughters. Please be sure to
get a quote for services
if needed. Call or Text:
919.723.8453
. Please reach out to connect with me on
LinkedIn.
Latest posts by David Williams (see all)