Photography is an art—it's all about looking for subtle things that you can do to show a scene in a way that forces the viewer to see it differently. One of the cool things you can do to add some creativity to your photography: experiment with unusual angles or camera placement. Composition is one place where you really have some room to explore, and changing up the angle is a really simple way to find new perspectives.
Shoot from an elevated position.
I carry a monopod with me to on-location shoots; you can get one inexpensively. A monopod allows you to lift the camera up 10 feet in the air and get some really neat angles. If you stand on a chair and use a monopod, you can extend this effect even further. Often, the end photo looks like it was shot from an even higher elevation due to natural optical illusions. I used a monopod to shoot the photo below, and the elevated effect makes the room look larger.
Shoot along a textured wall.
I do a lot of head shots and creative photo sessions upstairs at the Wake Forest Coffee Shop. Part of the reason why I like doing shoots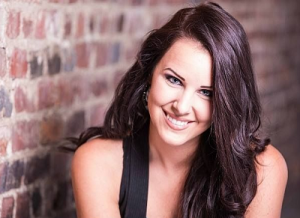 there: they have an indoor brick wall that makes for a nice backdrop. Brick walls work especially well for two reasons. Their rough texture creates beautiful effects with light and shadows; and also, it's easy to vary the angle of the wall relative to the subject. As you can see in the photo here, shooting at a diagonal allows me to create a "fade" effect. The focus is fixed on the subject, and the bricks become gradually softer as they fade away.
You can play around with plenty of other angles. You have a 360-degree sphere to work with. The next time you're looking for a way to compose a photo in a unique way, see how many different angles you can try. You'll be surprised at just how much you can alter the look of a photo by changing this single variable.
If you are in the Raleigh, NC area and have an interest in a photography workshop, please be sure to visit this page of the website: https://www.rtpphotoandvideo.com/photography-workshops-raleigh-nc/
Please use the SHARE features below to spread the word.
The following two tabs change content below.
Short Bio About The Author:
I'm David Williams a professional commercial photographer focusing on corporate and business clients with some personal branding, lifestyle photography in the mix. My love for photography began in late 1981 while still in High School. I started making money with his camera in 1982. Brenda, my wife, and I started working together in photography in 1988 shortly after we met. Brenda and I married in 1989 and have two adult daughters. Please be sure to
get a quote for services
if needed. Call or Text:
919.723.8453
. Please reach out to connect with me on
LinkedIn.
Latest posts by David Williams (see all)