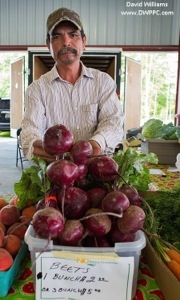 This is my first post using the WordPress iPhone app. I am using text to speech to write this post.
This is an image that I took at the Wilson Farmer's Market. I was hired by an agency to photograph three Farmers's Markets in three different cities today. Martin Brossman rode shotgun and took some pictures of me taking pictures.
I am keeping this post short because I want to see if the WordPress app actually post it to my main blog.
Please feel free to comment and use the share features to push this blog post out to your network.
The following two tabs change content below.
Short Bio About The Author:
I'm David Williams a professional commercial photographer focusing on corporate and business clients with some personal branding, lifestyle photography in the mix. My love for photography began in late 1981 while still in High School. I started making money with his camera in 1982. Brenda, my wife, and I started working together in photography in 1988 shortly after we met. Brenda and I married in 1989 and have two adult daughters. Please be sure to
get a quote for services
if needed. Call or Text:
919.723.8453
. Please reach out to connect with me on
LinkedIn.
Latest posts by David Williams (see all)